NEWS
Jason Aldean Shares House Rules, Golf Lessons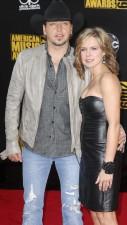 Jason Aldean's daughters Keeley, 6, and Kendyl, 2, have a rule: No running in the house.
"Our oldest daughter was running in the house the other day, and jumped on one of our chairs and almost knocked her tooth out," the country singer, 32, tells me. "See? No runnin.' If she wouldn't have been running, she would still have a tooth right now."
Yikes! She lost it right there?
"Well, she loosened it, and then it came out a couple weeks later."
Article continues below advertisement
With two kids, finding couples time takes effort.
"Lately our youngest daughter started going to school on Tuesdays and Thursdays, so those are usually our date days," he says. "She's been taking golf lessons, and I love playing golf, so we go out and play golf. We usually spend those days hanging out or maybe go to a movie or whatever. That's about the only alone time we get these days."
"Our oldest one is into Hannah Montana. She plays softball. And our youngest one is into Dora The Explorer."
Jason credits wife Jessica, whom he wed in 2001, with teaching him patience.
"I've always been a very impatient person. Being married to her, she's taught me how to be a little more patient, thank goodness. It's probably something I needed. That's a big one."
And Jessica thanks Jason for making her more outgoing.
"He's so chatty," she tells me. "When we first met, I was super quiet so the more I've been around him, the more I talk. I'm more outgoing."
Here's a pic of Jason and I: