NEWS
Khloe Kardashian and Lamar Odom Have their First Fight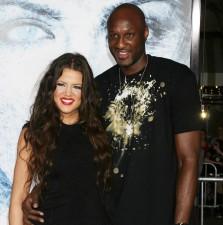 Is the honeymoon over for newlyweds Khloé Kardashian and Lamar Odom? Just 10 weeks after their lavish wedding, the couple had their first public fight on Wednesday night — in a restaurant in L.A, reports RadarOnline.com.
"Lamar caused a huge scene," a source tells the Web site of the incident at a Phillippe Chow restaurant.
"He got jealous because Khloé was texting at the table and he yelled at her to quit it. She refused, so he stormed off and sat alone at the bar. Khloé just ignored him."
Article continues below advertisement
Refusing to go back to their table, Lamar sulked alone. "He went and sat at the bar and watched TV by himself," the source added. "Khloé was with her best friend Malika Hagg and the poor girl was totally stuck in the middle.
"She was running back and forth between the bar and the table trying to make peace but Lamar kept just saying 'I'm not talking to her. Let her talk to her phone. She can be alone with her phone.' It was bad.
"Finally he stomped back over to the table and grabbed the keys and left a couple of hundreds on the table. Khloé just turned her back to him so he walked out the front door."
Even though it looked like the NBA superstar had gone home leaving his wife behind, he pulled up at the restaurant in his SUV.
"Everyone thought Lamar had left but then he pulled around front in his SUV and the girls went out and jumped in," the source says.