NEWS
Marilyn Manson & Evan Rachel Wood Back Together Again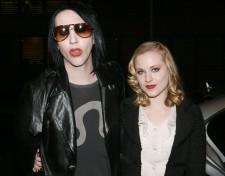 Well this is interesting: Marilyn Manson admits in an interview with Metal Hammer magazine that he and Evan Rachel Wood are back together.
Marilyn has had an epiphany after suffering from a slight "identity crisis."
"I think I'm not afraid to be me," Marilyn explains of how he has changed. "Sometimes it happens when you get to this point in your career, and there are so many things that have happened and influences that you've had, besides the influences of the things that have inspired you."
Article continues below advertisement
"Sometimes you feel awkward being what you're best at, you feel like you have to be something new," the goth rocker says. "But I think that a lot of people will agree that me being me at my best is what I need to be."
"I think that that really paid off because I'm back with Evan," Marilyn confides.
He's working on a new record now and expects his relationship with Evan to make an impact.
"Yeah, I think it will be more badass, I think it's going to be more romantic maybe," Marilyn says. "Self abusive."