NEWS
Natasha Richardson's Death Shattered Her Sister Joely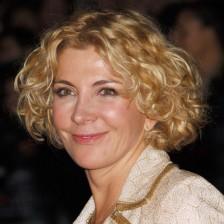 Nip/Tuck star Joely Richardson has revealed how she threw herself into work to cope with the loss of her beloved sister Natasha Richardson, who died after a freak skiing accident in March.
Joely, 44, returned to set on the day after her sister's funeral, filming a scene for a BBC drama The Day of the Triffids. She then took the role of Henry VII's sixth wife, Catherine Parr, in The Tudors.
"A strange autopilot kicks in; your psyche puts your work day into a different compartment from your private life," she tells the UK's Tatler magazine via the Daily Mail I'm not kidding — my first shot back on set was reacting to someone dying."
Article continues below advertisement
Speaking for the first time, eight months after Natasha's death, Joely, 44, says of her sister, "We were such opposites, but completely enmeshed in each other."
Natasha (pictured) died aged 45 while on holiday with her children in Québec, Canada. She fell and hit her head during a skiing lesson on the nursery slope at the Mount Tremblant resort and sustained a serious head injury.
Joely is now moving to New York with her daughter Daisy for two months to be closer to Natasha's sons with her husband Liam Neeson, Michael, 14, and Daniel, 13.
"I hadn't lived a day in my life without her," says Joely. "You worry about your children and your elders, but I never imagined such a thing as this. Tash was a given to me.
"The shock shatters you on a cellular level, and it takes time for the pieces to come back together, albeit in a different formation.
"So much of what I am is who Tasha was, and I think, sharing all those formative years, there is level of merging. . . I cannot imagine that there will ever be a day when I don't think of Tasha."
Asked if she is coming to terms with Natasha's death, Joely says, "I don't look at happiness as being a great goal. A sense of peace, definitely, but it's like the seasons.
"I think we're meant to have a spring, summer, autumn and winter. I'm not looking for a perpetual summer because that would be a flat line."