NEWS
Neighbor's 911 Call Reveals New Tiger Tracks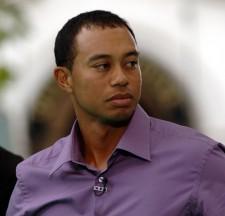 It seems that Tiger Woods' mother and mother-in-law may have been witnesses at the scene of the crash last week: According to the Associated Press, a voice strongly resembling Tiger's mom, Kultida Woods, can be heard in the background of a 911 call reporting the crash to police saying, "What happened?" very loudly.
Though the AP could not confirm, Tiger's neighbor Jarius Lavar Adams and his sister Kimberly Harris spoke with Florida Highway Patrol troopers about the incident, noting that Kultida and the golfer's mother-in-law, Barbro Holmberg, were at the scene.
Article continues below advertisement
Harris, who said she heard a loud "knocking sound" and saw tail lights that night, said that she and her brother found Tiger shoeless and snoring in the passenger seat of his 2009 Cadillac Escalade.
Elin Nordegren, Tiger's wife, was already at the scene dressed in a black jogging suit and was begging for Adams and Harris to help.
Adam's told the troopers during his 16-minute conversation that, "She said, 'Can you please help me? Can you please help me?' and I said 'Okay.' and I immediately just ran back to the phone, called 911, ran back out the house again to go back out there to see if she needed any assistance."
Adams and Harris were not sure if Elin left the scene at any point, the AP reported, because they were busy taking care of Tiger who Adams said was bleeding.
"Not a lot of blood ... nothing on his shirt, nothing on his hands," Adams told investigators. Harris went back into the house to bring out a pillow and blankets.
"The cops came, the Windermere cops came first, then the security guards came," Harris said. The gated Isleworth community has their own security guards. "And then it appears Mr. Woods's mom, and Tiger's wife's mom came out after the fact."
"I don't know if they heard the commotion, I don't know if she, the wife, left and came back," he said. "But they walked across the grass and were outside as well."
A spokeswoman for Barbro told the AP that she didn't know if Barbroo was in Florida at the time of the accident.
"I don't know for sure, but I don't think so," the spokeswoman said. "I have not been informed about that. She was here again working on Monday again anyway."