NEWS
Robert & Kristen's Private Dinner Date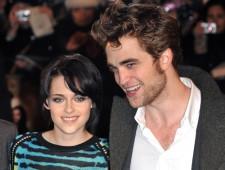 Don't worry about Katy Perry moving in on Robert Pattinson: Rob was spotted out on a date with Kristen Stewart in Venice Beach on Wednesday just before heading to the party Katy also attended, E! News reports.
According to the report, a source said Rob and Kristen dined together at Gjelina restaurant on Abbot Kinney before checking out the A. Kinney Court opening next door. The whole time they managed to keep hidden from paparazzi cameras.
Article continues below advertisement
An E! News insider at the party said, "Robert and Kristen were eating next door and peeked in the window after their dinner as the party was wrapping up.
Guess they longed to be able to take their relationship public and attend a party together where Owen Wilson, Zach Galifianakis and Olivia Wilde were, but alas, they are much too private for that.
After looking their fill, they continued on their way. "Kristen was wearing an old white T-shirt with her hair in a ponytail," the source said. "Rob was wearing jeans, a tee and a dark coat."
"It looked like they were on a nice stroll through the neighborhood," the spy added. "They seemed really just into hanging together."
Although there weren't cameras around that they could see, they didn't go crazy with the PDA.
"They weren't holding hands, but were really sweet with each other," the source explained. After that the couple went their separate ways.
It's too bad they can't just openly go to the same events, but nice to hear they find time to sneak in some dates!