NEWS
Inside Brad & Angelina's Cozy Italian Date!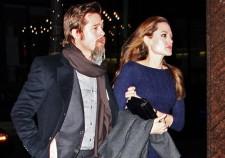 Busy parents Brad Pitt and Angelina Jolie got some well-deserved time adult time together (plus an entourage of paparazzi, of course), heading out for a four-hour dinner at NYC's swanky Italian restaurant Alto last night. Hollywood Life reports on all the details of their four-hour feast of a meal, without any of their six kids around for a change.  
Angelina might be thin and trim, but she can sure pack it away: Hollywood Life says the two strolled in around 7 p.m. with four others who "looked to be business people," and Angie started with Uovo Borghese, ravioli filled with sunny-side-up eggs and ricotta cheese.
Article continues below advertisement
Meanwhile, Brad went for the  tagliatelle pasta as an appetizer before the two of them polished off two medium rare sirloin steaks. To wash all that rich food down, Brangelina (who looked very happy, according to an eyewitness account), the glam coubple and their pals had two bottles red wine and two bottles of white at their table.
The twosome finally left the restaurant close to 11:30, "smiling" and looking as though they'd had "a very good time."
Amazing what four hours of kid-free time can do!
CHECK OUT PICS OF BRAD & ANGIE'S DATE NIGHT: