NEWS
Jessica Alba Loves Her Stretch Marks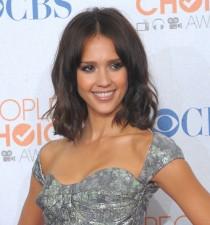 Jessica Alba has a lot to look forward to in 2010. The highly-anticipated release of her new movie Valentine's Day — starring opposite Ashton Kutcher — has been receiving buzz for its star studded cast. Jess' role is more laid back and girlie then some of the tough-girl, kick-ass parts she has been linked to. The doting mom of adorable daughter Honor Marie and sexy wife of producer Cash Warren dishes to Self magazine on what it was like working with Ashton, how she has embraced her stretch marks and waking up next to Cash.
Article continues below advertisement
"I love Ashton Kutcher's sense of humor," Jessica tells Self magazine in an interview for the February issue. "At political and Hollywood events, he's serious and composed, but on-set, he's a free spirit. I was one of the first people he ever punk'd: I was shopping with a friend and they closed down the store for 'Danish royalty.' And then some guy was walking around butt-naked trying on clothes. I was grossed out!"
Jessica loves acting, but if she wasn't on the silver screen, she said she would choose a career path in politics.
"I used to think being a marine biologist would be the best thing ever, but now that I've grown up and seen things in the world, I think politics. Advocating and lobbying for certain issues would be a pretty interesting way to live your life."
Anyone who follows Jess, knows she never goes anywhere without her adorable 18-month-old daughter Honor by her side.
Article continues below advertisement
Jess tells Self when she want to blow off steam, she always turns to her main girl.
"Honor is the best cure for stress. When I spend time with her, I get instant perspective. I can be hard on myself if I don't do everything perfectly. But now that I have her, there's no time for that. I want to teach her that you can learn from your mistakes, and if you keep moving and stay positive and loving, everything will work out."
Jessica has always been fit, often flaunting her toned bod in her films. But when it comes to diets, she stays away.
"Diets are for the birds," she tells Self. "I think you have to eat in a way that makes you feel your best. I include a lot of vegetables and lean protein and fruit and grains in my diet. I'm not a big workout person. Every single day, I tell my girlfriends we're starting a regimen. And then it's, like, 'Want to get dinner? Want a glass of wine?'"
Article continues below advertisement
While many wold kill for a bod as hot as Jess's, she still has flaws she has to deal with like stretch marks— but rather than dwelling on them, Jen embraces the change in her body after having a child.
"Even though some might consider them a flaw, I've learned to love my stretch marks. Pregnancy was the most incredible experience I've ever had. So I'll take the stretch marks. I'll take the sagging boobs. I'll take the cellulite I can never get rid of. If you walk around with your head held high and you're happy and positive, then all that other stuff is irrelevant. Confidence is number one."
Jessica says she loves the way she feels when she wakes up next to her hot hubby Cash.
"Or talk on the phone. Everything! Every time I see him or talk to him, I fall in love with him all over again."
And where can we find Jess in 10 years?
"Raising my kids in the south of France."
"My mother-in-law has lived there for more than 20 years, and she has a beautiful setup. I want to be able to allow Honor and my other kids, who I hope to be blessed with in the future, to maintain their innocence for as long as possible. There is so much time to be an adult."
Looks like Jessica and Cash want to build their family! Honor Marie needs a sibling.