NEWS
How Jennifer Love Hewitt Gets Glam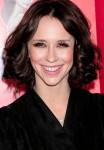 After twenty years in showbiz, Jennifer Love Hewitt has learned a few lessons about taking her appearance to the next level.
"Elizabeth Taylor taught me that after you get ready for the day – after you do your hair and makeup – you're supposed to take a hot bath because it brings out your inner glow," the Ghost Whisperer star tells me. "I always do that before I go out."
Turning 31 inspired her to change up her style.
Article continues below advertisement
"I'm trying to be a bit more glam this year -- even my lingerie choices tend to be a little more glamorous, just from within," she admits. "I tend to go pretty comfortable. I'm a jeans and t-shirts kind of girl. I dress casual for comfort."
The actress has been linked to Jenny McCarthy's ex John Asher, 39, after amicably splitting from co-star Jamie Kennedy.
The Day I Shot Cupid author shares her advice for single gals in NYC and beyond.
MORE ON:
Jennifer Love Hewitt
"Be careful," she says. "Run for your life. Drink lots of cosmos, go to the spa and have really close girlfriends."
Here's my pic with Jennifer:
Jennifer Love Hewitt is featured in OK!'s What I Ate Today section in the issue on newsstands now. The cover line is "Jennifer Aniston: How She Lost 7 Lbs. in 7 Days."