NEWS
Spotted!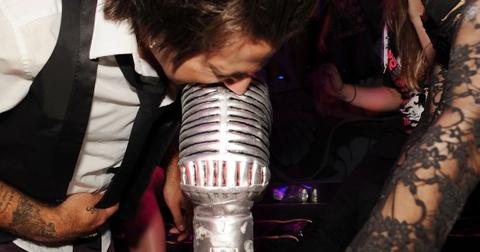 Ryan Cabrera partied like a rockstar Saturday night, shmoozing with females, hanging with good friends, like world-famous magician, Steve Wyrick and blowing out the candles of his microphone-shaped cake at The Bank Nightclub in Las Vegas!
True Blood starlet Anna Paquin checking-out kicks at the Upper Echelon Shoes Trunk Show at the Blue & Cream store on The Bowery, on July 15. PC Peterson and Jessie Levitt from NYC Prep also popped in to check out the new collection from UES. Taryn Manning and Paris Hilton chatting while getting their hair done at the Gavert Atelier Salon in Beverly Hills.
Article continues below advertisement
Rumored new Swatch spokesperson Nick Cannon at the Swatch CreArt Collection by Billy The Artist launch party with performance by Constantine and the cast of Rock of Ages in NYC.
Jack Osbourne running into his mom Sharon at Encore's Society Café in Las Vegas.
Jon Favreau and the cast of Iron Man 2 celebrating the film's wrap party at Playhouse in L.A.
Jermaine Dupri deejaying a Bud Light Lime party at The Underground in Chicago. He dedicated a DJ set to Michael Jackson's music proclaiming, "I love you and I hear you Michael" before playing a medley of his music.
Jessica Szohr at the American Museum of Natural History as Louis Vuitton celebrated the 40th anniversary of the Lunar Landing.
AnnaLynne McCord puffing on a nicotine-free energy and vitamin filled SmokeStik while celebrating her 22nd birthday at the Asics Beach House in Malibu on July 18th.
David Beckham and his teammates checking out of the W Hoboken.
Asher Roth, best known for his hit summer jam, "I Love College," was partying and sipping Venom Energy cocktails at NYC's summer hostpot Hudson Terrace after his concert, on Wednesday, July 15.
Article continues below advertisement
The City's Whitney Port enjoying a Bustelo Cool in the tents during Mercedes Benz Swim Week in Miami on July 17.
Real Housewives of New York City's Jill Zarin and Ugly Betty's Vanessa Williams attending Russell Simmon's 10th annual Art For Life Benefit Gala on July 18th with music by DJ M.O.S.
Star Jones at Rush Philanthropic Arts Foundation's 10th Anniversary Art For Life Benefit in East Hampton, N.Y.
Kate Beckinsale and husband Len Wiseman at STK in L.A.
Laird Hamilton and Gabrielle Reece at the 2nd Annual PacSun Pipeline To A Cure For The Cystic Fibrosis Foundation in Huntington Beach, Calif.
Jon Stewart and Steven Colbert dancing to The Roots at The Gates in NYC.
Day & Night Restaurant Beach Club premiered its first weekly, "Dinner With The Stars!"  Real Housewives of New York star and Hampton socialite LuAnn De Lesseps attended the intimate dinner  and famed DJ Nick Cohen was behind the turntables!
Street Dreams star and pro-skater Rob Dyrdek attending onetime neighbor and friend Ryan Cabrera's Zaya Rum sponsored birthday party at Cabrera's new bachelor pad in the Hollywood Hills on June 17.
Hip hop producer and rapper, Ron Browz gave a sizzling performance that included his hit single "Pop Champagne," at JET Nightclub in Las Vegas on Friday night.
LMFAO, the electro-hop, high-energy duo, Redfoo and Sky Blu, took a night off from boozing at their album release party at NYC's rooftop hotspot Hudson Terrace on July 14. Swigging VENOM Energy Drinks instead of brews, these rowdy boys were totally charged and ready to give partygoers a high-energy performance of their hit single, "I'm In Miami B*tch," currently on Billboard's Hot 100 list and the theme song for the upcoming series, Kourtney and Khloe in Miami.