NEWS
Reporter Stroke or Seizure? Doctors Say Serene Branson's "Episode Should Be Taken Seriously"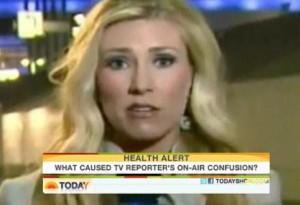 Did CBS reporter Serene Branson suffer a stroke on air or was it something else? After Serene's difficulty speaking during a post-Grammys report, doctors are searching for a cause and agree the "episode should be taken seriously."
OK! VIDEO: REPORTER SERENE BRANSON HOSPITALIZED AFTER SCARY GRAMMYS SEGMENT
After struggling to speak on the air, Serene was examined by paramedics immediately, but not hospitalized. She says she's doing well, but doctors who are examining the video of the incident are concerned.
Article continues below advertisement
"This is what we call a class neurological event," Dr. Keith Black, director of the Neurosurgical Institute at Cedars-Sinai Medical Center, told NBC's Today show (via PopEater). "She was obviously aware that she was having difficulty."
Black says the episode was most likely the result of either a transient ischemic attach or "blockage in blood flow going to the brain" or a "mini-seizure located in the language area."
OK! NEWS: SERENE BRANSON STROKE? CBS CONFIRMS REPORTER IS FEELING FINE
"This is a neurological event in real time," Today show's medical expert, Dr. Nancy Snyderman states.
"Well most importantly, she seems to be doing okay right now and our thoughts are with her, but it's scary," Matt Lauer says.
"She's going to have a long-term relationship with a neurologist," Nancy explains. "This is not something that doctors go 'Oh, well I'm glad you're fine, you're okay.'"