NEWS
Tina Fey Announces Pregnancy!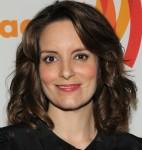 The women from 30 Rock are definitely in "the family way" and the very talented Tina Fey is no exception! Tina announced the pregnancy of her second child and now joins the ranks of cast mates, Jane Krakowski who is due later this month and Elizabeth Banks who recently became a mom via surrogate.
OK! EXCLUSIVE: TINA FEY TACKLES WORKING MOM MYTHS
When Tina appeared on The Oprah Winfrey Show yesterday for a taping to air next Thursday, according to CTV News, she announced that she's already five months pregnant! Timing couldn't be more appropriate since the 40-year-old comedian has a five-year-old daughter and is currently promoting her new book, Bossypants.
Article continues below advertisement
OK! NEWS: TINA FEY & ALEC BALDWIN CELEBRATE 100TH EPISODE OF 30 ROCK
Excerpts from the book show that perhaps having another child was already on her creative mind. As per CTV News, in the book Tina writes, "I thought that raising an only child would be the norm in Manhattan, but my daughter is the only child in her class without a sibling. Most kids have at least two."
She adds, "Who will be my daughter's family when my husband and I are dead from stress-induced cankers? She must have a sibling."