NEWS
Kim Kardashian's Engagement Ring Rumors Debunked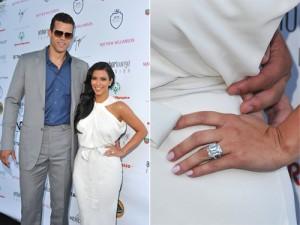 Despite rumors that Kris Humphries didn't pay for Kim Kardashian's ring and the coincidence that she sported a nearly identical ring in 2009 when she was dating Reggie Bush, an insider tells OK! that Kris did pick out the ring and pay for it entirely.
Kim has been a big fan and supporter of designer Lorraine Schwartz, a friend of the Kardashian family, and knew exactly the style of jewelry Kim preferred.
Article continues below advertisement
An insider says Kris was offered free engagement rings from other jewelry companies, but he wanted the best quality for Kim and wanted to pay for the real deal. He made sure to go to Kim's favorite jewelry designer, who's known for never giving away free jewelry.
Lorraine is based in New York, making it an easy trip for the New Jersey Nets basketball player.
Article continues below advertisement
The designer was open about the very sentimental message Kris had engraved in the ring, writing on her public Facebook page:
"Wow, how romantic. Aside from the 20.5-carat diamonds, Kris wanted to add something extra special from him in the ring. It took him 3 days to come up with a coded message of love for Kim to be engraved in the ring — along with a K <3 K. Amazing!!"
Kim lovingly responded on Lorraine's Facebook page:
"A special thanks to Lorraine Schwartz! WOW!!! I love what you wrote on your facebook page! You are the best!!!! What a week! I LOVE YOU!"
Kim's ring, estimated to be worth $2 million, is 20.5 carats (which includes 2-carat diamonds on each side), making it larger than her sister Khloe's giant 12.5-carat, radiant-cut engagement ring, estimated to be worth $850,000.
Kris' 2011 salary with the New Jersey Nets was $3,200,000, making the ring a hefty commitment for his bank account.
Guess that's what true love can do!