NEWS
Justin Bieber & Selena Gomez Pregnancy Scare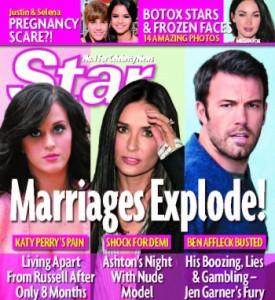 Justin Bieber and Selena Gomez have gotten so hot and heavy together, their friends and families fear the worst — that an accidental pregnancy could derail the teen lovebirds' careers. Star magazine reports on the couple in this week's issue.
OK! NEWS: JUSTIN BIEBER & SELENA GOMEZ EXCHANGE MULTIPLE "I LOVE YOU'S" ON NYC SHOPPING SPREE
With numerous photos circulating of Justin, 17, and Selena, 18, sharing deep kisses and steamy intertwined embraces, an insider tells Star, "Justin's been told straight up that if he's having sex, he had better use protection." He's young and full of hormones, the last thing he and Selena need is to make a terrible and costly mistake.
Article continues below advertisement
OK! NEWS: SELENA GOMEZ TOTES HER PRESENT FROM JUSTIN BIEBER AROUND THE WORLD
"Everyone knows their intentions are good, but they also know how easy it is to get worked up when you're young and in love. It would only take a few moments of weakness to cause what could be a lifetime of regret." Red flags were raised after Selena was photographed wrapped around Justin's torso as they frolicked in the surf in Hawaii in late May. Then, on June 9, Selena suddenly checked into a hospital in Burbank, Calif., and the rumor mill went into overdrive buzzing that she was suffering from nausea and dizziness — classic symptoms of early pregnancy.
OK! GALLERY: SEE JUSTIN BIEBER & SELENA GOMEZ'S SHOCKING MAUI MAKE-OUT SESSION
The singer/actress, whose new movie, Monte Carlo, was just release later revealed that she had simple been "very malnourished...low on iron and exhausted." Still, the incident threw a scare into her and Justin's inner circle.
FOR MORE ON SELENA AND JUSTIN'S PREGNANCY SCARE, PICK UP THIS WEEK'S ISSUE OF STAR, ON SALE EVERYWHERE NOW!