NEWS
Kellan Lutz Talks Anti-Bullying & See Through Jerseys: "Yes!"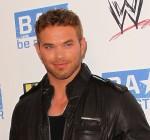 Twilight hottie Kellan Lutz dished last night about two personal yet unrelated topics. He was bullied as a kid by none other than his older brother! He learned to fight back and "be tough or make yourself mentally tough." Then, of course the conversation switched to a lighter note like Ashley Greene borrowing his clothes and his thoughts on girls wearing guys' clothing. Find out more after the jump!
Article continues below advertisement
OK! EXCLUSIVE: KELLAN LUTZ — TWILIGHT WEDDING WAS "BEAUTIFUL"
Kellan told reporters at the WWE and The Creative Coalition Present "be a STAR" Anti-Bullying Alliance event that he was actually called Dumbo growing up because he had big ears. He explained to OK!, "I was the middle child. I had older brother who beat me up. It made me a stronger kid, but the physical abuse was nothing compared to… I mean it is brotherly love, but I couldn't tell my older brothers that kids at school were calling me Dumbo because they would beat me up even more."
Article continues below advertisement
By being vocal, he meant standing up for yourself. He told OK!, "My brothers always encouraged me to fight back and not run away so that's probably not the best advice for me to give, but you have to talk to someone and you have to stand up for yourself. You have to be tough or make yourself mentally tough."
And in case you're wondering, he does see the people who called him Dumbo and while he's not going to sink to their level, he dished, "...I get the last laugh."
OK! NEWS: ROBERT PATTINSON & KRISTEN STEWART TALK BREAKING DAWN SEX FOR STEAMY NEW EW COVER
Sweet revenge indeed! Something else that's sweet is Kellan's fashion line. "My line is not the girly girl line," he said. "It's a comfortable line and that's how I live my life. I want to be comfortable. I can still be tough. I can still run."
Actually, Robert Pattinson talked to him about doing his own line, too. Kellan added, "He was like, 'I should do one' and he found out I was doing one and he was like, 'really?' He wants to do one, too. We called it "Rags By Rob" or something like that. He's always so hipster."
Article continues below advertisement
OK! NEWS: ROBERT PATTINSON TEASES KRISTEN STEWART FOR GETTING EMOTIONAL WALKING DOWN THE AISLE
Kellan's line is men's right now but he's working on a women's line that will launch next spring. The hands-on actor says he makes the call on every decision. "All of the designs, stuff like that. I know exactly what kinds of comfortable clothes I like. I'm very hands-on because I want to be."
So, whether or not he's worried about roommate Ashley Greene stealing his clothes, it sounds like it's too late for that. He proclaimed, "She always does!" Then he added, "I think girls who rock guy's clothes are cute. See through jerseys. Yes!"
Reporting by Gena Oppenheim
I