NEWS
Debbie Gibson Reopens Culture Club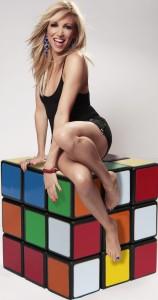 Get ready to "Shake Your Love."
Tonight marks the reopening of '80s and '90s hot spot Culture Club – and pop icon Debbie Gibson is at the helm! It's been quite a year for the 41-year-old star, who is fresh off her "Journey Through The 80s" tour with Tiffany (who she teamed up with for SyFy's Mega Python Vs. Gatoroid), in addition to cameos in the Katy Perry video Last Friday Night (T.G.I.F.) and Tom Cruise flick Rock of Ages.
Article continues below advertisement
And now, she can call the retro nightclub, which closed in 2007, her home, as she has partnered with its new midtown NYC location.
"I've been an unofficial part of the club for a long time in terms of performing," she tells me. "Club creator Bobby Watman came to me and was like 'do you officially want to be a partner?' In coming up with my official title, he was like 'you're the ambassador to the 80s.' Love it!"
After walking through the Pac-Man themed entrance, I get a first-hand look at the four floors of the venue complete with staples like the Back To The Future DeLorean and massive Rubik's Cubes.
Tucked into a corner near the bar, which serves up drinks like The Gibson Girl and Purple Rain, I spot a huge glass-covered photo of Deb amidst the Top Gun and Bon Jovi posters. Oh yes - it's the pic from the multi-colored Electric Youth t-shirt, circa 1989, I recall. She shows me her Electric Youth tour jacket - similar to a high school jacket - and memorabilia case that includes an unspooled Out of The Blue cassette.
Article continues below advertisement
"I have a passion for all things 80s," Debbie says. "80s music is pure escapism - fun, unashamedly melodic and catchy. I think people are longing to go back to that time again. I love that they brought it back. It was gone for a few years, and people were always asking – I knew a lot of friends who would come and dance at the old one. I don't want to go to a hip-hop club. I want to go to a club to dance, and this is that place."
She continues, "Younger people love the 80s now. They've discovered it for themselves, and it's become cool. In L.A., I always say to my boyfriend Dr. Rutledge Taylor 'I want to go dance, but there is no place that's going to play the music that I want to hear.' There's been nothing like this since the last incarnation of Culture Club, so it is a one-of-a-kind place."
Most exciting are the upcoming special performances – including Debbie herself!
Article continues below advertisement
"I won't be the house band, but if I'm in town, and I want to perform, I know that I have this great place to perform, and I can do things with advance notice or as a surprise. It's a place I can perform, and host events or parties. It's like a home away from home."
Clubgoers never know what other celebrity guests they'll see in the venue.
"I have a fond memory of performing here after my opening night of Cabaret, because I was already committed to perform. I had done my opening night on a Friday night, and went right from my opening night of Cabaret to here and did a midnight show. I always remember Neil Patrick Harris sitting on the edge of the stage, because we were doing Cabaret together, watching my set."
But Debbie won't be the only retro act who takes the stage. She hopes to feature favorites like Lisa Lisa, Gloria Estefan, Rick Astley, Samantha Fox, Billy Idol, Stacey Q and the cast of Saved By The Bell.
"I might have to drag Jordan Knight out," she says. "That would be fun. It helps to have friends from that era!"
I'm vying for my personal favorite (aside from Debbie) – The Party! After all, she wrote their 1990 tune Ton of Bricks, and they would totally rock the 90s floor.
She sings, "You hit me, you hit me, you hit me … like a ton of bricks."
Damon Pampolina (my only celebrity crush ever) is ready to make it happen – yes!
But first, Debbie will perform at the grand opening event next week.
Talk about "Only In My Dreams."
Here's my pic with Debbie at the club and backstage on her tour:
Visit Culture Club, located at 20 West 39th Street, in NYC. You know I'll be there!