PHOTOS
Ashley Olsen, the Private Twin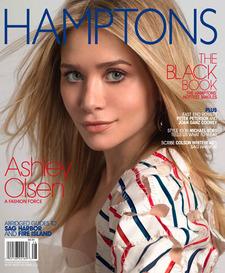 From their mid-teens to their early twenties, Mary-Kate and Ashley Olsen were two of Hollywood's most photographed and written about celebs. Every party they attended, every boy they dated, every oversized cup of Starbucks they guzzled was documented for a public hungry to know every detail about the pint-sized duo.
But in the two years since they turned 21, the two have not only managed to step out of the tabloid spotlight, but the sisters each began to follow their own career interests, with MK continuing to pursue her acting and Ashley receding further away from the fame that dogged them for the first two decades of their lives.
Article continues below advertisement
While Ashley may have said goodbye to the big screen (at least for now), she is the star of the cover of the new issue of Niche Media's Hamptons Magazine, where she talks openly about what it's like to have gotten off the celebrity roller coaster
ON HER PARTY-GIRL PAST
"I've definitely had a past life of being a personality, and a very public one... But that's not what makes me comfortable. I'm not an actress. I'm not a public figure or acting as one."
ON WHY SHE PREFERS NYC OVER L.A.
"I can actually live here. I don't get followed. In L.A., paparazzi wait outside my house. I don't leave my house. I can't."
ON THE SUCCESS OF HER & MK'S CLOTHING LINE 'THE ROW'
"It hasn't been easy by any means. I started with T-shirts. I wasn't sure it was going to become a company. It was more something I was doing for myself creatively."
ON OTHER ACTORS-TURNED-DESIGNERS
Article continues below advertisement
"That's the thing about celebrity brands these days. People think they can define a brand by just a name, but the product has to speak for itself. It doesn't really matter whose name is on it. That's the truth. It's the work behind it. It makes you step up to the plate."
ON MK'S CONTRIBUTION TO 'THE ROW'
"She couldn't be more supportive. From a design perspective she's always bringing concepts to the table."
ON A POSSIBLE RETURN TO ACTING IN THE FUTURE
"Never say never."
For the entire interview, be sure to pick up the new issue of Niche Media's Hamptons Magazine.