BABIES
Britney Bodyguard Speaks Out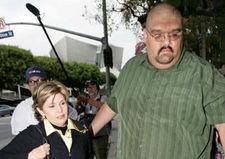 In spite of the fact that , the media-friendly attorney for one-time bodyguard insists that her client can't discuss what's in his sealed declaration to the judge in the pop star's custody battle, he seems to be speaking to just about anyone who will listen.
After interviews with Barretto appeared in two separate British papers this weekend, he gussied himself up for an interview Monday morning on the Today show, where he told host , "I just want to make sure the public and the court and her fans know the truth."
Article continues below advertisement
During the brief chat, Barretto, who worked as a human shield for Britney for only a handful of weeks following her rehab vacation in early 2007, describes in vague detail two incidents in which he alleges he saw the pop star consuming illicit drugs at an unnamed L.A. club. However, he did explain, ""I have never seen her use drugs in the presence of her children."
Asked if he ever attempted to discuss her unique parenting skills with the former Mrs. Federline, Barretto explained, "It was always forbidden to talk to her about her personal life," adding, "Britney doesn't listen to nobody as a parent."
Barretto ended the Today chat by claiming, "I'm not here to destroy Britney; I'm here for the kids."