BABIES
Britney Spears Exclusive: Her Plan to Have Adnan's Baby!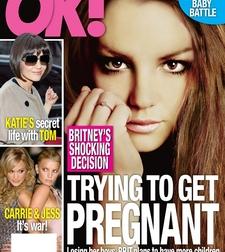 Jan. 16 2008, Published 7:00 a.m. ET
View all comments
(CLICK HERE for video of Brit & Adnan shopping for pregnancy tests)
It was a chaotic Monday for Britney Spears. She showed up late to her court custody hearing (hey, at least she showed!), saw the paparazzi crush and turned right back around, getting back into her car and driving off for a day of shopping, praying and, well, more driving.
Now the pop star has lost both custody and visitation rights with her precious sons, Sean Preston and Jayden James and, as an insider reveals only in the new issue of OK!, friends fear she may seek to heal her loneliness by having another child — this time with her married paparazzo boyfriend, Adnan Ghalib!
Article continues below advertisement
Britney was photographed checking out a pregnancy test at a Rite Aid Monday afternoon. She and Adnan shopped for the test at the pharmacy, following her disappearance from court that day. While at the Rite Aid, the pair also filled out a prescription.
"Britney hates when things are taken from her," a family member of Kevin Federline tells OK!. "The court's taken Preston and Jayden away, so she'll just have another kid to take their place. That's the way she thinks."
For the full story, pick up the new issue of OK! — on stands everywhere Thursday.