BABIES
Britney vs. K-Fed — It's On Again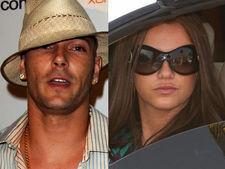 As expected, lawyers for Britney Spears and Kevin Federline arrived at an L.A. courthouse this morning to argue their respective sides in the pop star's ongoing custody battle with her ex-hubby over their two young sons.
It's believed that today's hearing, which has been closed to the public, will focus on Britney's apparent troubles behind the wheel — the videographer who shot her blowing a red light last week while driving with Sean Preston and Jayden James in the car is in the courtroom — and her reported positive drug test result.
Article continues below advertisement
Before the court was cleared, K-Fed's attorney Mark Vincent Caplan immediately asked the judge for "relief" — in effect asking for the existing custody order to be reversed and for the wannabe rapper to have full custody with no visitation rights for the beleaguered pop star. And, as has become part of the ritual with this case, the judge denied the request, saying that such decisions will be left until the next scheduled court date on Nov. 26.
During a 15-minute break from the proceedings, Brit's lawyer, Anne Kiley, revealed to OK! that "everything is great," before adding, "it's not over yet. We are just trying to de-escalate the proceedings."
OK! had been told that the court wouldn't be reviewing the video footage of Britney's red-light-running incident, nor hearing testimony from the videographer, but at 11:30am PT, the videographer was summoned into the courtroom. Hmmm...
Article continues below advertisement
Minutes later, with little fanfare, the hearing was over. "Everything went great," Kiley told OK! as she left the courthouse, where whatever decisions were made are currently sealed. K-Fed's attorney Kaplan told OK! he might make a post-hearing statement, but that "it will be very unfulfilling."
In a post hearing statemen, Kaplan told OK!, "
"We were successful in the sense that we were able to present evidence
that we wanted to present and orders were made but I'm not at liberty
to say what they are."
He added, "The photographer was important, as he was able to establish some
foundationa information. He will be back in court at a later date....I
suspect that my client will not be in court on the 26th....was I
successful? As a person? Yes."
Everyone is due back in court after Thanksgiving on Nov. 26.
As things continue to develop, OK! will bring them to you.