BABIES
Dr. Phil "Disappointed" About Octomom Nurse Firings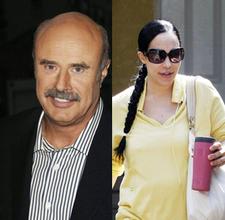 As <a href="http://www.okmagazine.com/news/view/12737/OctoMom-Fires-Free-Nurses" target="_blank">reported earlier today</a>, the <a href="https://okmagazine.com/search/Octomom" target="_blank"><strong>Octomom</strong></a>, Nadya Suleman, dismissed the free nursing care from Angels in Waiting USA that TV chatterbox Dr. Phil had helped to arrange only weeks earlier.
Now, not only is the good doc speaking out about the situation, he's going to give Nadya two full days worth of on-air time to explain herself.
Article continues below advertisement
"I'm disappointed that the two parties could not find common ground to work together," Phil explains during the opener of the first show, which will air on Wednesday. "Now my concern for the 14 children continues to be my singular focus."
Joining the show by phone, the oddball Octomom gives her reasoning behind kicking the Angels in Waiting folks to the curb.
"The primary issue was that myself sic and my nannies felt extremely uncomfortable," says Nadya. "I personally felt like a stranger in my own home. The goal was to empower me as a mother, help me, train me."
Of course, since she already had six children before giving birth to the litter of eight new ones, one might assume she'd already know a thing or two about being a mom. Apparently not.
"I wanted them Angels in Waiting to use their training and knowledge to help guide me. I felt that was never accomplished," adds the LocoMom. "I felt as though every time I tried to hold the babies, feed the babies, they would be observing and they were waiting for me to make a mistake."
Article continues below advertisement
Never one to shy away from a headline herself, fame-loving attorney Gloria Allred, who had helped arrange the deal with Angels in Waiting, felt the need to express her opinion. "I think the real reason that Nadya has not been able to continue with Angels in Waiting may be the fact that not one, but three reports had to be filed with Child Protective Service by Angels in Waiting who are mandated reporters under the law...
The whole point of Angels in Waiting, besides providing such high-quality care…was not to put the burden on the taxpayer, but that's what Nadya and her attorney are doing. They want to shut everybody up…that's wrong. I want to know what they are hiding and why."
You can watch the sparks fly for yourself when the two-part episode of Dr. Phil begins on Wednesday and continues Thursday.