BABIES
Everyone Loves Katie!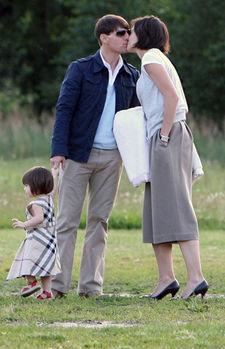 and have been enjoying life abroad, but it looks like Tom may have some competition as Katie's number one fan!
Tom has been in Berlin while he films Valkyrie this summer and the locals have helped bring TomKat even closer. "Katie has been very good for Tom," a local tells OK!, "Public opinion towards him has changed because of her. Everybody loves her and those feelings have rubbed off on Tom."
Article continues below advertisement
On August 28 Tom, 45, was spotted at a public autograph signing smiling and snapping pictures with his fans. It's not just Katie, 28, rubbing off on Tom. Suri (who won the reader's poll as The Cutest Celeb Baby), 17 months, has become extremely popular with the locals. The proud parents have been letting her run around the gardens of the Regent hotel. The local says, "They're very loving parents."