BABIES
OK! Interview: Usher Finds Balance With His Sons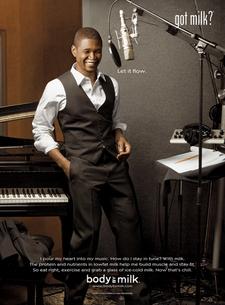 If anyone could prove that milk does a body good, it's gotta be Usher: The busy dad of two somehow finds time to stay healthy and tone his sizzling hot physique, while working on new music, branding his image and spending time with his sons.
OK! sat down with the latest Body by Milk star to talk about what's really important in the life of a world famous musician and entertainer.
What does it mean to have a milk advertisement?
Article continues below advertisement
You haven't made it until you've become a part of the milk campaign. There are a few things in life that you hope you can manage to do as an artist: That's win a Grammy and as an actor, win an Oscar and maybe get a star in Hollywood. But the one thing that seems impossible is to someday have a milk ad. I guess I've got almost all of them done. I'm just really happy to be a part of this campaign also because of the encouragement it gives to kids wanting to live healthy, drink milk and be active.
How important is health in your life?
It's all about eating healthy, eating healthy, drinking healthy. With everything that you put in your body you have to know that you can't command it to do all these things if you're not taking care of it. This is just one of the many things I do to keep my body healthy, is drink low-fat milk. I work out, I try to get as much rest as I can and just be healthy.
Do you really dress like you are in the ad in real life?
Article continues below advertisement
Sometimes it's a lazy day and a lounge day and other times I'm in the mode. I was in Las Vegas shooting this picture and we really wanted to do something that was timeless and classic. Back in the days when Sammy Davis Jr. and Gene Kelly and Fred Astaire and Frank Sinatra all did it, they did it Vegas style, so I kind of grabbed on to that. That lifestyle of ultimate elegance and rich quality, not rich in finance but don't get me wrong, its very rewarding to do what I do, but I think the quality of what that is is all about class.
What's next on your list to tackle?
I think that doing meaningful projects in the future as an actor is something I'm looking forward to doing. I hope to someday have a few more lifestyle branding opportunities. One thing that's worked really well for me is my fragrance. I have four fragrances, two Usher He and She and UR for Men and Women. There's another fragrance that I'm coming out with very soon called VIP and I hope that it's as successful as the first one was and the second. Being number one isn't so bad.
Article continues below advertisement
Where do you find your inspiration?
Living through my experiences and wherever I go. Wherever you go, what you experience, what you see, what you hear, what you think, what you feel, all those things.
How do you find balance and relaxation?
I find balance in two places, when I'm working out and with my kids. And I could be doing many things, I could be running, doing cardiovascular, all that type of stuff. I really find the balance in what I need to do or what I'm thinking about or what I need to think about in that moment when I'm on the treadmill running. The other place is within the noise of my children. When I hear them my mind is not focused on all of the things that are holding me down. When I'm with my boys its all about them and I just put it all together somehow. They bring me my balance.
What do you like to do with them?
We spend most of our time in Atlanta in the car traveling wherever we're going to go. That's when our fun moments are, either at home or in the car.
Will they be singers, mini Ushers?
Hopefully! We got Usher V, and Naviyd he's not quite at the age where he can talk, sing and catch rhythm, but Usher's already jumping. He likes to jump, thats his new thing.
Where will we see you next?
I'm in the studio working on the album, it should be out in October. I have another fragrance hitting stores in September called "Usher VIP." There's a movie I just did with Ashton Kutcher called Five Killers. I have a cameo in it so a small part.
Interview by Laura Lane