BABIES
Salma Hayek Opens Up About Motherhood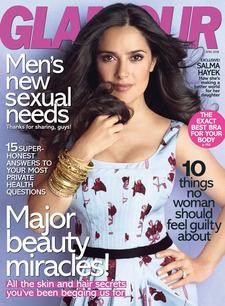 On Sept. 21, 2007, Salma Hayek became the proud mother to a baby girl, Valentina Paloma — a happy moment, yes, but not one the actress really wanted.
"I have to confess something — I wanted a boy," Salma tells Glamour in its April 2008 issue, admitting that she was "afraid" of raising a little girl."I think women suffer a bit more than boys, and there is always conflict between mothers and daughters."
Article continues below advertisement
But now that Valentina's here, Salma couldn't picture motherhood — or her child — any other way. "I'm so happy she's a girl," she says. "And I can't imagine there ever being conflict between us, because I'm in a state of innocence where I love everything she does. If she does a poop and I have to change the diaper, I love that moment!"
The Oscar nominee is surely basking in the warmth of motherhood, noting "every second is magical" and that she's "in a great place." Salma turned 41 nineteen days before giving birth to Valentina and valued having a baby later in life.
"I think it's very good to have a child at this age," she says. "I enjoyed it. It came to me and I said, "Okay, this is where I go now." I had diabetes while I was pregnant. I became huge. And I said, "This is what it takes for me to have this baby, and I really want it." Then you don't know if it's going to be healthy; you are completely out of control. So the experience really makes you humble."
As for her fiance, François-Henri Pinault, he's enjoying parenthood the third time around as well, even though he had concerns at first.
Article continues below advertisement
"He warned me from the beginning that he gets very nervous when babies are so little — he thinks he's going to break them! But he plays with her, sleeps with her, loves her, kisses her."
The two are currently engaged but have no immediate plans to walk down the aisle yet, though Salma believes they "probably" will one day. A marriage though is not their top priority at the moment.
"You want to grow old with someone, you want to have a partner and to have children — we have all those things."
Except the same place to live — the couple live on opposite sides of the world, with François, CEO of fashion conglomerate PPR, in Paris and Salma residing in Los Angeles. And while the situation may look weird to some people, it's perfectly normal and doable for them.
"You have to be brave enough to say, 'This is who we are: We might not look like the perfect couple, or like our parents did, but this is our love story,'" Salma says. "Wishing you could be together more is so much better than wishing you could get the hell away from someone."
For more on Salma, read the full interview at Glamour.