NEWS
Keri Hilson: 'Gimme More' is My Song!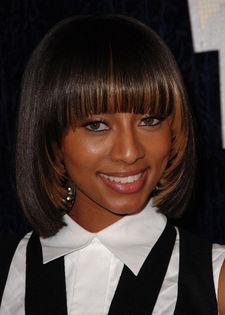 ' personal life may be in shambles, but there's still some good news in her professional one — her single "Gimme More" is still burning up the airwaves and is seemingly fixed in its No. 1 position on the iTunes charts. But just who is responsible for this hit ditty?
, that's who.
" produced the song and I just started singing, 'Give me, Give me,' and added a little more in and just having fun and messing around really," Keri tells OK!. "That's how everything is. I wrote 'Gimme More' with Britney in mind. At this point in my career I am usually in the studio when usually they're there or sometimes not there, the session is booked, but I definitely have them in mind."
Article continues below advertisement
Like with many of Britney's biggest hits, the woeful pop star did not put pen to paper for "Gimme More," leaving the honor to more established songwriters, such as Keri herself. As part of The Clutch, Keri has penned many of today's hits, collaborating with heavyweights like and . The 24-year-old wrote not one, but four tunes on Britney's forthcoming album, dropping Nov. 13, and tells OK! the songs are older than you think.
Although the fallen pop princess was spotted traveling to and from recording studios in the spring, Keri reveals that the 25-year-old actually recorded the tune more than a year ago when she was seven-months pregnant with Jayden. But ever the workaholic — despite the contrary at last month's Video Music Awards — Brit didn't let a third trimester pregnancy slow her down — or a birth, for that matter.
Article continues below advertisement
"She was so focused," Keri says. "She gave 150 percent. She had already been recording throughout her pregnancy. We started in Vegas and continued in L.A. and worked at her house. When we worked at her house she gave birth to Jayden and it was only three weeks after the baby was born. I mean focused? I don't know any other mother that would do that."
However, suffice it to say, a lot has changed since those days. Britney and Keri, who also wrote "The Perfect Lover," "Out of This World" and "Break the Ice" for the singer, have lost contact and haven't had a chance to chat about their iTunes triumph.
With their dressing rooms across the hall from each other's at the VMAs, Keri had hoped to catch up with the mother of two "but I think she just kind of disappeared."
But the songwriter harbors no ill will against Britney and only wishes her the best. "I'm proud of it, and I would love for people to just leave her alone. She's going through a lot. This is Britney dealing with life, with real life. Those kids are her whole life."