COUPLES
Ellen Confirms Plans to Marry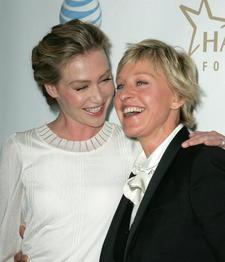 Talk about a happy TGIF for Ellen Degeneres, who has indeed confirmed her her long time partner Portia de Rossi.
"I am announcng I am getting married," Ellen,50, told her audience during Thursday's taping of The Ellen Degeneres Show (which airs today).
Amidst wild cheers and a standing ovation, the talk show host joked, "Thank you. I'll tell you who the lucky guy is soon!"
Degeneres did not mention de Rossi,35, by name in her announcement, however the camera cut to the former Ally McBeal star in the audience, clapping and smiling.
Article continues below advertisement
"It is something of course that we have wanted to do and we wanted to be legal, and we are just very, very excited," Degeneres said.
Ellen's announcement came at the heels of a California Supreme Court ruling on Thursday, overturning a state ban on gay marriage, deeming it unconstitutional.
Degeneres and De Rossi have been a couple for four years and have been open with their relationship, appearing on red carpets together at Hollywood events.