NEWS
Nick & Vanessa: "Happy Birthday to Us!"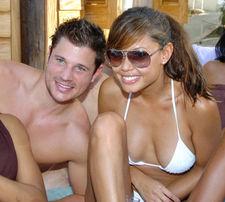 For adorable twosome Nick Lachey and Vanessa Minnillo, Nov. 9 is a doubly big day, as it's not just his birthday, but hers too!
"I like to think I'm a gentleman about it and try to think of her," Nick, who'll be celebrating birthday #34, tells OK! about his feelings on sharing his special day. "It's her day as much as mine."
To get a head start on the birthday bash, NickNessa jetted off with some friends for a whirlwind weekend of "great weather and dinners" at the El San Juan Hotel & Casino in Puerto Rico, which is where OK! had the chance to chat with them.
Article continues below advertisement
In terms of his birthday wish-list, Nick's desires are pretty down-to-earth, saying he hopes his brother, Drew, will get him a leaf blower while Vanessa is on her own to figure out what the singer wants. As for what the singer will surprise his girlfriend of a year and a half with, Nick will only say, "I already have it and actually asked if she wanted it tonight, but she said, 'No, I want to wait.' "
Looking at his plans for the year ahead, it will certainly be a busy one for Nick. "I'm in the studio trying to wrap up my album," he said at the El Canto Beach Club presented by NYC club Tenjune. "I also have some TV projects that I am producing. I am excited about that and trying to branch out."
The first single off Nick's upcoming CD will be released in early 2008 and he already has 30 demos that need to be cut down for the final list of songs. "The last album was very specific to the time in my life," Nick explains. "This one is much more broad, and it is not about one specific moment in my life."
Maybe he can sing about how great his birthday celebration was!
By Alisandra Puliti