COUPLES
Rumor Mill: Kim Kardashian Engaged?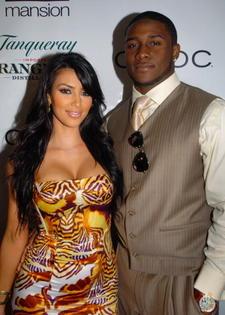 Sources close to Kim Kardashian are claiming to OK! that the 27-year-old Keeping Up With the Kardashians star is now engaged to her boyfriend, 22-year-old Heisman trophy-winning football player Reggie Bush.
The pair were together in Miami on Dec. 31, where Kim hosted Mansion's Tanqueray and Ciroc New Year's Bash in South Beach alongside Reggie. While Kim wasn't sporting the huge — reportedly 10 karat — rock she'd been photographed wearing over the weekend, she did admit to OK! that things are getting serious. However, she added, "One thing I did learn from '07 was to try to keep it as private as possible so I'm trying to hold that close to my heart but I'm here with everybody that I love."
Article continues below advertisement
Despite that New Year's resolution to not blab about her love life, Kim, who was joined at the party with her sisters Kloe and Kourtney, told OK! her holiday with Reggie, who has been unable to play with his New Orleans Saints since being injured in early December, has been "the best!"
And should Kim and Reggie make that stroll down the aisle, he should know he's got some good home-cooking waiting for him. "I'm the best cook!" Kim tells OK!. "People don't know that, but I cook all the time. My best dish is surprisingly my soul food meals. My fried chicken and my macaroni and cheese and my sweet potato souffle."
However, it looks like all these rumors of an impending wedding might be just that — rumors. A rep for Kim tells OK! that any stories about her client being engaged are "not true."