NEWS
Are You the Ultimate 'Twilight' Superfan? Prove It!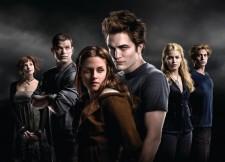 Calling all Twi-Hards!! Have you had to buy multiple copies of the Twilight books because your original copies fell apart? Have you collected your ticket stubs from all the times you've seen Twilight in the theater? Do you take family vacations to Forks? Did you name your daughter Renesmee? Do you own a "Team Jacob" or "Team Edward" shirt? Did you take a week off work or school to travel to Vancouver in the hopes of seeing even a glimpse of Robert Pattinson or Kristen Stewart? If so, we want to hear from you!
Article continues below advertisement
OKmagazine.com is looking to name someone the Ultimate Twilight Superfan. So if you think you have what it takes to claim these bragging rights, e-mail whatever evidence you have (photos, stories, links to videos, your personal blog, etc.) to superfan@okmagazine.com between now and 10pm ET on Nov. 13.
We'll pick the finalists and then post their evidence to let the readers decide who deserves to wear the Ultimate Twilight Superfan crown!