NEWS
Ashton Kutcher Denied a Date by Jennifer Aniston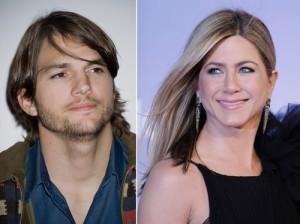 Feb. 22 2011, Published 4:55 a.m. ET
View all comments
Ashton Kutcher's teenage dream was all about Friends star Jennifer Aniston, but once he finally had his shot at making them come true he got shot down!
OK! GALLERY: ASHTON KUTCHER & DEMI MOORE ARRIVE IN SAINT BARTHELEMY ON A YACHT
"I was 17 years old and she was my screensaver." Ashton reportedly said of Jen (via Toronto Sun).
Ashton reportedly confessed Britain's Graham Norton saying, "So I make a bet with my buddy. I'm probably 17 years old. I said to him, 'I bet you $1,000 that some day I will go on a date with Jennifer Aniston.' "
Article continues below advertisement
But Ashton had an obstacle to face when he finally met Jen — her husband!
"Four or five years later I actually meet Jennifer Aniston and she's married to Brad Pitt at the time. And so I went to Brad Pitt and I asked his permission to ask his wife out on a date."
"I said, 'Listen, I made a bet with my buddy, you're a cool guy, you're gonna let this go down, right?' And he looked at me, he's like, 'You go for it.' And I'm like, 'You're the coolest guy I've ever met in my life!' So I asked her and she turned me down."
OK! NEWS: JENNIFER ANISTON CELEBRATES HER BIRTHDAY IN NYC
But he's not giving up just yet.
"Now we're friends so it might still happen, but now I have to ask Demi's Moore permission and I just don't know how to broach that with the wife, but I do want to win the bet."
Maybe he can still win!