NEWS
Blake Lively 'Leaked Nude Photos Herself for Publicity' Says Joe Francis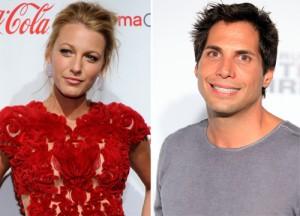 Blake Lively and her camp may be claiming the nude photos leaked alleging to be Blake are "100 percent fake," but Joe Francis has a different theory. The founder of the Girls Gone Wild franchise, is "90 percent" certain that Blake leaked the racy photos herself!
"I would say 90 percent it's an orchestrated attempt or act on her part to raise her profile," Joe, the founder of GGW Brands, which produces the Girls Gone Wild DVD series, told Hollywood Life. "I'm not sure, but my inclination is that it's coming from her. She knows what she's doing or someone in her camp does."
Article continues below advertisement
OK! NEWS: BLAKE LIVELY TURNS TO LEONARDO DICAPRIO AMID NUDE PHOTO SCANDAL
Ever since the photos surfaced on the Internet earlier this week, Blake and her camp have been on a round-the-clock campaign to squash the rumors, maintaining "Blake has never taken nude photos of herself," and "will pursue legal action against the publication which initially published these photographs and any other outlets that republish them in any manner."
So why would Blake leak the photos of herself?
"I think it's a smart move. This will make her desirable," Joe explained to Hollywood Life. "It's working because it's getting wide coverage. This may be what she needed to get her name out there."
He believes the photos will help boost Blake's appeal and her public profile.
"Look, mainstream U.S.A, other than the five people that watch Gossip Girl have never heard of Blake Lively," he said. "This will catapult her into some of the top searches on some of the Internet sites which will then trigger a dramatic jump of interest in her, and therefore catapult her career."
Article continues below advertisement
He also referenced Kim Kardashian, Paris Hilton and Pamela Anderson who all made headlines for their sex tapes and/or racy photos which helped launch their stardom.
"Here's the thing I've told all these girls about sex tapes and things like this: What people don't understand is that you may go through a storm, but that storm is relatively short. And especially in the context of entire career or an entire life, you're talking about a three-month or six-month controversy," Joe shared. "People forget. People forget quickly."
Joe feels Blake has nothing to worry about because "she looks fantastic."
"She'll be fine. Once you become a sex symbol and a symbol of sexuality, people start Googling you — and by the way, 95 percent of all searches done on the Internet are sex-related," he added. "Then they start tracking you, looking at you and then women become interested in you as person, because men are, and that catapults you into celebrity."
Yesterday, Blake was spotted with rumored-new beau Leonardo DiCaprio on a boat in Venice, Italy, looking rather distraught. Does the photo below look like someone who brought a scandal on themselves? Do you think Joe has a point? Sound off in the comments.