NEWS
Britney & Jason: On The Rocks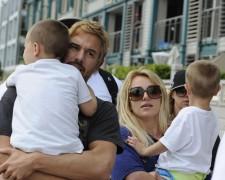 Once again, Britney Spears' love life is a circus. The pop star spent the holidays sans boyfriend Jason Trawick, checking into L.A.'s Mondrian hotel on Dec. 28 with her mom, Lynne, to clear her head...and change her locks. "Their relationship is in big trouble," a source close to the couple tells OK!. "This is the first stable romance she's had in years and it looks like it's over."
Friends saw this coming — especially since Britney, 28, is not happy with the fact that on Dec. 23, an L.A. judge continued to grant her dad, Jamie, conservatorship over her.
Article continues below advertisement
"Jason's original role was to help Britney get her life back together. Because that dynamic was in place from the beginning, he was controlling her a bit, giving her the guidance she needed. But she's over it. She straightened up and is fed up with Jason telling her what to do."
FAMILY FEUDS
Spears family insiders also blame Britney's problems on the tension between her parents. Divorced since 2002, Lynne and Jamie still have their issues.
"The fighting has taken its toll on Britney," says a source. "She's begging Lynne to move on. Over the holidays, she put her foot down when she heard Jamie yelling at Lynne on the phone"
Jason, however, has sided with Jamie. The source adds, "Britney and Jason had a huge blowup before New Year's because Jason defended Jamie. She couldn't believe he would think Jamie had a leg to stand on."
Article continues below advertisement
Another cause for the couple's conflicts: Jason, 38, was jealous of Britney's bodyguard Edan Yemini. Confirms an eyewitness, "Edan's been with her for more than a year accompanying her to every city and country. We think he's in love with her."
And Jason does not like the competition, says another source. "Jason — in business as well as in his personal affairs — wants no one cutting in on his dance."
Britney has a jealous side as well.
"She checked Jason's BlackBerry and would give him hell if he contacted a female. One of the last straws was when she called one of the women and it was a business contact. Jason was so embarrassed and had to apologize."
Not surprisingly, Jason suggested that they "take a break" and has told friends they have agreed to see other people. Nonetheless, they have left the door open to rekindle their relationship, and friends are hopeful.
Article continues below advertisement
"They'll get it worked out because they really do love each other," says a pal, "but it's going to take time."
BEHIND HER DARK 'DO
On Dec. 28, she checked into L.A.'s Mondrian hotel a blond but emerged with jet black locks hours later.
"When Britney changes her hair," says a friend, "it is very telling."
In fact, it seems every time Brit has a crisis, her hair undergoes an extreme makeover (recall the post K-Fed head shave in 2007?).
NYC psychologist therapist Rachel Blakeman (who has not treated Britney) says a woman often changes her hair "to control something when other things are out of control. It can also be an imagined life-changing event, as though she is a new person as a result of the new color."