NEWS
Taylor Momsen Mad at Leighton Meester's Music?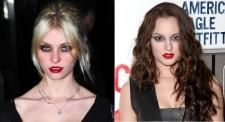 We knew there was tension on screen, but not off! Hollywood Life.com reports that Taylor Momsen is not happy with Gossip Girl costar Leighton Meester because Leighton's album is being played on the show and hers isn't.
"Taylor is not happy that Gossip Girl has been playing Leighton's music on the show, and they have never asked to play any of her songs. It's creating a lot of tension on set," a source tells HollywoodLife.com.
Article continues below advertisement
Gossip Girl has played Leighton's songs "Good Girls Go Bad" and "Somebody to Love" on two episodes this season. The CW also premiered Leighton's music video for "Somebody to Love," but have never played any of Taylor's songs.
Taylor's grunge band "The Pretty Reckless" is signed to Interscope, but has not released an album yet.
Leighton's solo album with Universal Republic is set to debut in early 2010 and includes songs with Cobra Starship and Robin Thicke.
Both girls have released singles online and performed concerts in NYC this past year.
So although they sound pretty equal, only Leighton's music is being played.
"Leighton's pop music fits the theme of Gossip Girl more than Taylor's punk rock songs," a source explains.
A rep for the CW stated, "The show will support Taylor and her music when the time is right, but her music is not ready yet."