STYLE
The PhilmGuy's DVD Review: 'Magic Mike' starring Channing Tatum, Matthew McConaughey, and Olivia Munn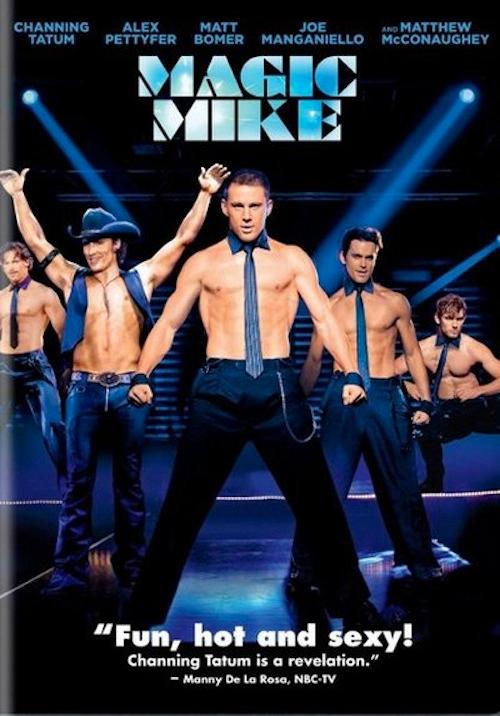 Abraham Lincoln: Vampire Hunter — Seth Grahame-Smith's revisionist history mash-up novel gets a stake to the heart in the form of this limp, groaningly overserious adaptation. The movie is a rare misfire for director Timur Bekmambetov (Night Watch, Wanted), who ignores the cheeky undertones of the source material and plays it far too straight, resulting in a run-of-the-mill vampire flick with little new to offer the genre. Benjamin Walker plays the legendary president, who wages a war against an army of bloodsuckers who are using the Confederacy as a front to take over the nation. Mary Elizabeth Winstead plays his wife, Mary Todd, and Dominic Cooper checks in as Honest Abe's vampire slaying guru. What could have been a rollicking action comedy is instead as dry as a PBS documentary. The Blu-ray/DVD/digital copy combo includes Grahame-Smith's commentary and several making-of featurettes displaying the artistry behind the unconvincing fighting and bland effects.
Article continues below advertisement
Ghastly Prince Enma Burning Up: The Complete Series Blu-ray — This is one to try if you adore Japan's particular brand of wildly creative animated insanity. In something of a take on the formula of The Expendables, a patched-together squad of supernatural heroes (including an ice princess, demon prince and Harry Potter-like living wizard hat) do their best to fend off a relentless demonic assault. The sexually risqué, subtitled, giggle-inducing confection comes with DVD versions of each episode, a lavish, hardcover art book and a bevy of extras, including voice cast and filmmaker interviews.
Magic Mike — An aging stripper (Channing Tatum) who's desperate to start a furniture business takes a young buck (Alex Pettyfer) under his wing, ushering him into a wild world of tiara-wearing "woo" girls, easy money and underground thuggery. Matthew McConaughey makes an impression as Tatum's sleazy boss and a sometimes topless Olivia Munn plays a groupie who's hiding something. The movie's heterosexual-centric world of the male stripper is less than convincing, but the ample skin and glitzy choreography will dazzle those who came to see Tatum and McConaughey strut more than their acting talents. The Blu-ray/DVD/digital copy combo includes a feature that does away with the pesky story stuff and just strings the dance sequences together. There are also extended scenes and a peek at the actors' stripper training.
Article continues below advertisement
Pete's Dragon 35th Anniversary Edition Blu-ray — The underrated 1977 Disney musical mixes concepts from Oliver Twist and Harvey to come up with the story of an orphan (Sean Marshall) who totes along his invisible best pal, an animated dragon voiced by Charlie Callas. The ubiquitous Mickey Rooney also pops up as the father of a girl who takes a shine to Pete. The screenwriting is choppy and the performances are laughable, but the movie packs charm for those who enjoyed it as children. The Blu-ray/DVD combo doesn't have any new special features.
The Princess Bride 25th Anniversary Blu-ray — I love this movie — doesn't everyone? But it's getting ridiculous how often this movie is re-released. If you were expecting the anniversary edition to bowl you over with an avalanche of new special features, you'll be as disappointed as Buttercup (Robin Wright Penn) after she hears Westley (Cary Elwes) was slain by the Dread Pirate Roberts. There's only one new featurette here, but at least it's a good one; a passionate, nostalgic look back at the creation of the classic. In all other respects, this release pales in comparison to the last one, which also came with the DVD version.
Article continues below advertisement
Secret of the Wings — Disney's fourth direct-to-video Tinker Bell adventure continues the series' surprisingly strong legacy, producing the most moving entry in the series to date. Tink, voiced by Mae Whitman, discovers that she has a sister (Lucy Hale) whom she's forbidden to see due to superstitions drawn from a legend. The arresting story couples with the striking animation to form something as solid as anything the studio has released in theaters recently. Lucy Liu, Timothy Dalton, Raven-Symone and Anjelica Huston bolster the voice cast. The 3D/2D Blu-ray/DVD/digital copy combo comes with a pair of music videos and a 22-minute short film set in Pixie Hollow
Seeking a Friend for the End of the World — Steve Carell and Keira Knightley sleepwalk through a romantic take on a world on the verge of apocalypse. Carell plays a man left lost and confused after his wife flees. Knightley is his equally lovelorn neighbor, who tags along with him as he goes off on an improbable quest to reunite with an old flame. The mismatched pairing rarely generates much chemistry, and Carell doesn't come through with his usual comedic spark to rescue a dull script. The Blu-ray/DVD/digital copy combo includes a cast/filmmaker commentary track led by writer/director Lorene Scafaria, as well as interviews with cast members.