STYLE
Travis London's Healthy Chic Eat of the Week!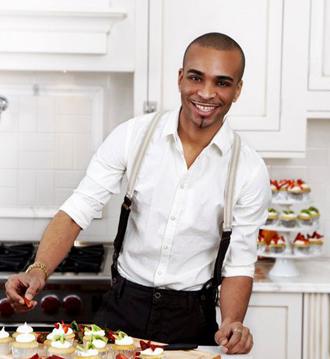 Travis London is all about eating and living well — the healthy and chic way!
"No need to skip out on the stuffing this holiday season with my Traditional Twist Whole-Wheat Sourdough and Vegetable Stuffing. To make this stuffing a healthy treat, we up the vegetables and use deliciously healthy whole-wheat sourdough bread. This year there's no feeling guilty about indulging in your holiday meal," Travis tells OK!.
Article continues below advertisement
1 large organic red onion, cut into small dice
1 large organic leek, trimmed, halved lengthwise, chopped
1/2 cup low-sodium chicken broth
1 1/2 teaspoons chopped dried thyme
1 teaspoon chili powder
1 teaspoon onion powder
1/2 teaspoon sea salt
1 teaspoon ground black pepper
TRAVIS LONDON'S HEALTHY CHIC EAT OF THE WEEK — PUMPKIN YOGURT PANCAKES!
Directions:
Preheat oven to 350 degrees F. Using two baking sheets, spread cubed bread pieces in a single layer. Place in oven and bake until lightly toasted, roughly 10 minutes. Transfer to a large bowl.In a large skillet over medium heat, heat half of olive oil. Add mushrooms and chopped garlic and saute until tender and lightly browned, roughly 8-10 minutes. Transfer to bowl with bread cubes.. In same skillet, heat remaining oil over medium-high heat. Add remaining vegetables and cook for 8-10 minutes until tender and lightly browned. Transfer to bread bowl. Add all remaining ingredients to bowl with bread cubes and mix to combine well. Stuffing should be moist and not be soggy or dry. If dry add more chicken broth. If stuffing a turkey, allow stuffing to completely cool beforehand. If baking stuffing, bake at 400F in an lightly oiled baking dish and cover with foil. Bake for 20 minutes with foil, remove foil and continue to bake for 10-15 minutes until stuffing is lightly browned.