NEWS
30 Days of Summer Meals: Toloache Thompson's Tacos de Suadero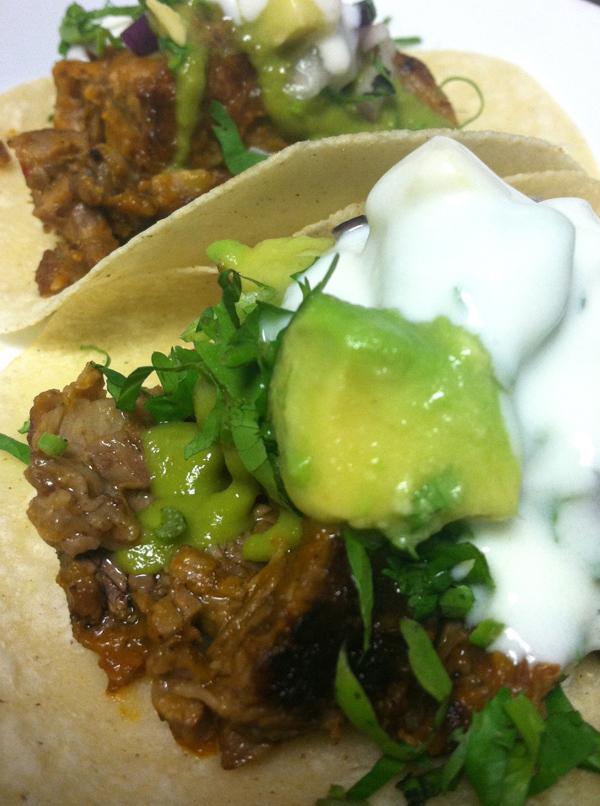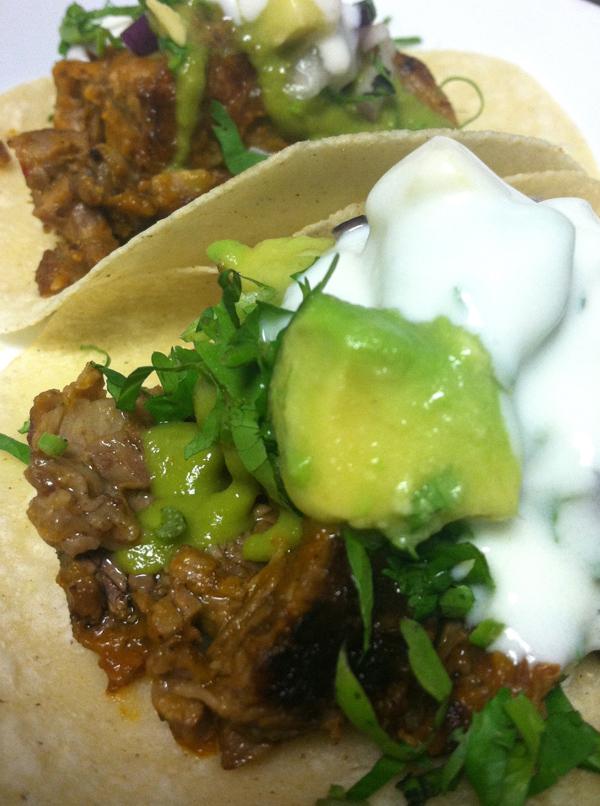 Chef Julian Medina's Toloache Thompson wows diners each and everyday with their Tacos de Suadero which boast brisket, avocado, red onions, cilantro, tomatillo salsa and horseradish crema. While there are three Toloache locations in New York City, the restaurants themselves aren't accessible for everyone...but now these tacos are! Feast your eyes on Chef Medina's Tacos de Suadero recipe so you can make them at home.
Article continues below advertisement
OK! News: Who Doesn't Love a Crab Cake Slider? Try NYY Steak's Recipe!
Tacos de Suadero
Bohemia-braised brisket, tomatillo salsa with horseradish crema
Serves 4
For the Tomatillo Salsa:
Serves 1 quart
5 medium-large tomatillos, husks removed, then quartered
1 small Spanish onion, quartered
2 jalapeño peppers, stemmed and seeded, then each half sliced into quarters
½ cup cilantro leaves
2 cloves garlic, peeled
1 avocado, peeled, pittted, cut lengthwise into 12 wedges
¼ cup water
OK! News: We Love CHAYA's Grilled Peaches with Burrata and Proscuitto
For the Brisket:
2 pounds of lean brisket
1 cup celery, diced
1 cup Spanish onion, diced
1 cup carrots, diced
5 garlic cloves
2 tablespoons chipotle puree
2 cups canned tomato puree
5 sprigs of fresh thyme
¼ teaspoon dried cumin
¼ teaspoon dried Mexican oregano
1 bay leaf
1 bottle Bohemia beer
Article continues below advertisement
Water, to fill pan
¼ cup canola oil
Cracked black pepper to taste
Kosher salt to taste
Additional:
8 corn tortillas
½ cup Tomatillo Salsa
1 tablespoon horseradish
½ cup Mexican crema
½ cup red onion, chopped
¼ cup cilantro, finely chopped
2 limes, cut into wedges
OK! News: In the Mood for a Salad? Try Le Bilboquet's Take on the Nicoise!
For the Tomatillo Salsa:
1. Place the tomatillos, onion, jalapeños, cilantro, avocado, garlic and water in a blender or food processor, purée until smooth. Season with salt to taste then set aside at room temperature.
For the Brisket:
1. Set oven for 325°F.
2. Season the brisket with cracked black pepper and kosher salt. Ready oil in a dutch oven on high heat, place the brisket in the pot and sear on all sides. When meat is browned remove from the pot and set the brisket aside, then reduce the heat under the pot.
3. Add to the dutch oven the onions, garlic, celery, carrots, chipotle, tomato puree, thyme, cumin and bay leaf; sauté the ingredients together. Once the ingredients have cooked down add the Bohemia beer.
Article continues below advertisement
4. Return the brisket to the dutch oven and pour in the water until it covers the meat. Cover with aluminum foil and place meat in the oven for 2-3 hours, or until thoroughly cooked and tender. Remove from the oven, let meat rest and cool in the braising liquid.
5. Once cooled, remove brisket from liquid and cut into slices, set aside. Pour the braising liquid into a blender, or food processor, and blend until smooth. Then pour the braising liquid back into the pot and re-heat over medium temperature. Return the sliced meat to the pot and let it re-heat in the sauce.
To Assemble and Serve:
1. Heat the griddle to a medium heat, warm the tortillas until soft.
2. In a small bowl combine the horseradish and Mexican crema to make a horseradish sauce.
3. Per each taco place a generous portion of the brisket meat in the center, then drizzle over about 1 teaspoon of the Tomatillo Salsa and 1 teaspoon of the horseradish cream. Top the taco with onion and cilantro. Serve with lime wedg@e.
What's your favorite variety of cuisine? Tell us in the comments or tweet @OKMagazine.