NEWS
Al Roker's No Speidi Fan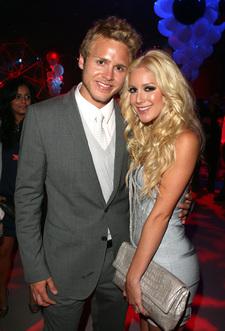 Listen up, reality TV "celebrities": Al Roker is out there, he's mad at your antics and he isn't going to take it.
The Today show host had Spencer Pratt and Heidi Montag in the hot seats this morning for an interview about their performance on I'm A Celebrity... Get Me Out of Here! and he was none too pleased with the blonde duo, to say the least.
"There are some who say you two are everything that's wrong with celebrity in this country," Al opened with the big guns, before introducing a highlight reel of the twosome's time in the Costa Rican jungle.
Article continues below advertisement
"When you watch, any regrets?" Al prodded Spencer.
"I was actually going to ask your producer for a copy of that highlight reel, it's actually one of my favorite things I've ever watched," Spencer minced back.
"Really?" Al queried with a big sigh.
"Absolutely."
RETURN OF SPEIDI:
Moving on, Al tried to get Spencer to admit he wants to be a villain and bad guy in real life, while Spencer says he just wanted to win the competition.
"You want to be the villain," prompted Al.
"I never said that," Spencer replied.
No, you said that," Al shot back.
"For the competitive show, not in life, I want to be the hero."
"When you act like that, how do you expect to be the hero?" zinged Al.
He then turned to Heidi to ask if she was proud of her showing.
"It was a very hard situation --" Heidi began, before Al interrupted, "The answer -- are you proud of the way you guys behaved."
"I'm not ashamed," demurred Heidi.
"But you're proud of it?" asked Al in disbelief.
"Sure," shrugged Heidi.
It only got better as Al turned on Spencer once again.
"You say villain, some people say jerk.
"Tomato, tomato," replied Spencer with his typical Spencer pride.
WATCH BELOW:
Visit msnbc.com for Breaking News, World News, and News about the Economy