NEWS
Aliens In America Do Rent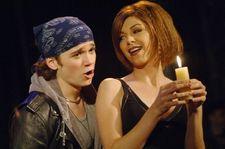 Calling all Rentheads, you gotta set your DVR for Aliens in America this Sunday. That's when outcast teen Justin winds up in a lead role of the Broadway musical Rent at his community theater, with his mom playing his love interest, Mimi! It's not as creepy as it sounds, is it?
"His mom is desperate for some mother-son activity," explains Dan Byrd, who plays Justin. "When he was younger, they used to do stuff together all the time. They've always had this abnormally close bond. He's picture-perfect definition of a mama's boy."
Article continues below advertisement
Mom Frannie (Amy Pietz) convinces Justin to join her in the local production and do stage crew, but Justin steps up to leading man status when he thinks a cute college girl is playing Mimi. "Through different happenings, Frannie winds up playing Mimi. A little awkward, yeah," Dan laughs.
That actually is Dan's voice belting out the lyrics to "Light My Candle," and while he's no Adam Pascal, he holds his own. "When I was younger, I only did one or two musicals, and it was before my voice had changed," Dan says. "I was a much better singer then than I am now."
Knowing the show inside and out like I do, I did have to school Dan on one faux-pas his Roger and Mimi make at the end of their duet. See if you catch it and hit me back at the end of the show!
Aliens in America airs Sunday, March 16 at 8:30 p.m. on The CW.