NEWS
Amber Portwood Screams at Her Mother on 'Teen Mom': 'You're Not a Good Mom'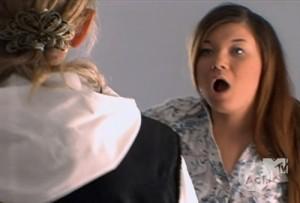 We all know this season of Teen Mom isn't going to end well for Amber Portwood, but watching it unfold is rather difficult. In last night's episode, Amber took her anger from her battle with Gary Shirley over custody of their daughter, Leah, out on her mother — and her mother wasn't afraid to fight back.
OK! NEWS: RYAN EDWARDS ADDRESSES MACI BOOKOUT'S SECRET LIVING SITUATION WITH KYLE ON TEEN MOM
Amber attended a hearing with Child Protective Services in an attempt to regain custody of her daughter, but when she got back home she yelled and screamed at her mother for asking a question during the hearing.
Article continues below advertisement
The Teen Mom star said she only wanted her mother to support her and not speak, and she proceeded to say nasty things to her mother, who dished it right back.
"Just leave me alone," Amber said. "Like, seriously."
"You will never change, Amber," her mother said while walking out of her home. "It's always been about you, Amber."
"You know what?" Amber yelled. "I grew up in a f***ing sh****-a** life, okay? We'll just put that out there right now. With an alcoholic father and a mom who worked 24/7."
"Fine, screw you," her mother shouted back. "Get a f***ing life, Amber."
"I have a damn life," Amber screamed. "You're not a f***ing good mom."
As uncomfortable as the fight was to watch, we know the worst has yet to come for Amber, who eventually ends up in rehab.
OK! NEWS: TEEN MOM 2 STAR JENELLE EVANS GETS ARRESTED AGAIN
Watch the clip (via AOL TV) below!