NEWS
'American Idol' Blog: The Top 7 Perform!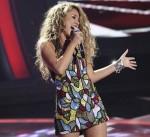 We finally said goodbye to our first guy of this season last week when Paul McDonald said so long. Now Idol is down to the Top 7 and they are signing songs from the 21st Century. Finally, some current music!
OK! VIDEO: WATCH PAUL MCDONALD DISH ON HIS AMERICAN IDOL EXPERIENCE!
Scotty - "Swingin'" by LeAnn Rimes- I have never heard this song and Scotty does his usual twang on it. But nothing special. Scotty is great but like always, same thing every week and it is just boring. He could be in trouble for the first time.
Article continues below advertisement
Steven - I love you. I love your voice. I like you Scotty. It's good.
Jennifer - I love your storytelling quality you have to singing. You had a decade of music to choose from, and we were expecting more from that one.
Randy - At this point in the competition, it is who is in it to win it? You have got to bring it really hard. That was so safe and it was actually kind of boring.
James - "Uprising" by Muse - Great entrance with a marching band. What I love about James is he is always putting on a show! And he always sounds great! Really loving this guy lately.
Jennifer - That is going to be theatrically the best performance of the night. That was really amazing. I think that was the highest we have ever heard you sing or anyone on the show.
Randy - Muse is one of my favorite bands and I hope you follow this direction when you make a record after this. You were unbelievable up there. I think this is going to be the best performance of the night. You slayed it.
Article continues below advertisement
Steven - Stay out of my closet now. You'd be surprised how expensive it is to look this cheap. I just love that you are out of your mind, beautifully so.
OK! NEWS: MARK BALLAS DENIES PULLING STRINGS FOR PIA TOSCANO TO PERFORM ON DWTS
Haley - "Rolling in the Deep" by Adele - Kind of a rough start and tough doing a current song, so many comparisons. But I am loving Haley do her bluesy thing on it and she really rocked it in the end.
Randy- You chose a perfect direction for you. Adele is an amazing artist and I think you have that amazing thing in you too. Well done.
Steven- It was a little slow at the start and you brought it up in the middle and did what you do best. I thought it was beautiful.
Jennifer - It takes a lot of guts to take on a record that everyone knows right now. You brought a little bit of Haley to it and that's where I thought you really shined.
Article continues below advertisement
Jacob - "Dance with my Father" by Luther Vandross - Started off a little shaky and really showed his emotion in this song but he didn't blow away the notes like Jacob usually does. He could be in trouble.
Steven - You had a little stumble there and your daddy was up there listening to you and it was a beautiful song.
Jennifer - You have the emotion there and you want to share that but you have to have enough control. And emotionally it was a beautiful performance.
Randy - It was an emotional performance, but vocally it was good but it didn't make me jump up and down. Don't hold back anymore. I need the church kid back.
Casey - "Harder to Breathe" by Maroon 5 - I have to give Casey props on this for actually doing something different with a song in his own way. Really fun to watch. But then he gets too screamy and that is not good.
Jennifer - I loved it. The performance was great. You brought all your Casey-isms to it. You took it all the way rock.
Article continues below advertisement
Randy - It's always surprise, surprise. I enjoyed it. Continue to take chances. You're a jazz/indie rock guy. Amazing job.
Steven - You've changed so many people's mind because you are so good and you're that kind of an artist.
OK! NEWS: FORMER AMERICAN IDOL JUDGE KARA DIOGUARDI REVEALS PAINFUL PAST
Stefano - "Closer" by Ne-Yo - Wow his eyes are really flirting with the camera. He is so sexy tonight and having so much fun up there. Great performance. He is really fighting to stay.
Randy - You did a very good job. And you took your time with the beginning. I was really proud of you and you worked the dance steps out too.
Steven - I was hoping you would dance and you did. Good job, really good.
Jennifer - I thought it was very, very good. Me the only girl on the panel. It really felt like a concert, you owned the song. I really really liked it.
OK! NEWS: CASEY ABRAMS WHISPERS "I LOVE YOU" TO HAILEY REINHART ON AMERICAN IDOL
Article continues below advertisement
Lauren - "Born to Fly" by Sara Evans - Lauren sounds great tonight. Country is a great fit for her, it really suits her. She needs to stick with this.
Steven - You are so good naturally and you have a great swagger. I'd love you to sing some Allison Krauss or Faith Hill next time.
Jennifer - You do have a special voice, you have such color in your voice.
Randy - You can sing anything. You must believe. You can do it. You can do anything, challenge yourself.
This is harder to predict each week as no one actually stunk. But I predict a bottom 3 of Casey, Jacob and a shocker for Scotty! But I think Jacob will go home.
We will find out tonight at 8 p.m.
Written by Rana Meyer