NEWS
'American Idol' Judges Finally Revealed!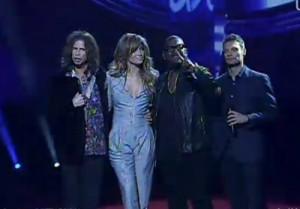 The wait is over! Host Ryan Seacrest revealed the new judges that will be joining Randy Jackson on Season 10 of the hit FOX singing competition American Idol, and the panel sure doesn't disappoint. As expected, Jennifer Lopez and Aerosmith frontman Steven Tyler will replace the roles of former judges Simon Cowell and Kara DioGuardi!
While the presentation may have included fog machines and J. Lo rising up from the stage, the sound on the live stream didn't work for the majority of the big reveal.
Article continues below advertisement
"It's about concentrating on the moment. Just live. It's your moment," she said of her advice for this season's Idol hopefuls.
The judges were announced moments ago online at at www.americanidol.com.
"I can't believe it's been 10 years of the greatest show in the world," the dawg Randy Jackson said, who has been a judge since the beginning. "I am looking forward to this next season; we are going to knock it out of the park. Season 10 is going to be hot!"
Article continues below advertisement
Steven may become the next Paula Abdul/Ellen Degeneres as he plans to show the contestants some "love."
"I've been on tour for most of my life in a band with four guys who judge me every day. Sometimes it hurt, but it only made me stronger," Steven said during the AI press conference. "I want to give everybody a little love before I decide who goes home heartbroken. If you don't like what I say, don't get mad, get better. I'm ready to bring some rock to this 'roller' coaster and show these kids if they have the dream, the talent and the drive, they will be the next American Idol."
We hope J.Lo makes hubby Marc Anthony and her adorable twins a part of the Idol family. The actress/singer has always been a fan of the show and an advocate for fostering talent.
"For nine years I've enjoyed watching artists compete to get a meaningful chance to achieve their dreams," Jenny from the Block said. "I know from my own experience how hard it is to succeed, and I'm looking forward to discovering and nurturing that spirit in the many American Idol contestants I look forward to meeting this year."
Article continues below advertisement
Simon Fuller announced another member of the Idol family who will be joining the team — famed music exec Jimmy Iovine, who will serve as an in-house mentor.
"Our 10th season begins with a completely invigorated panel of judges with Jennifer and Steven joining Randy. This is combined with the world's most successful and brilliant music executive, Jimmy Iovine, becoming the contestants' special mentor," series creator and executive producer Simon Fuller explained during the press conference. "American Idol in 2011 promises plenty of surprises and positive changes, and we look forward to continuing to innovate and lead the way for others to follow."