NEWS
Angelina Jolie Dreams of "Peace One Day"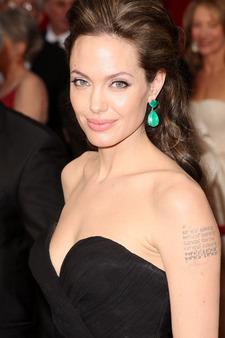 Superstar do-gooder Angelina Jolie has charities lining up around the block begging for her support.
So there's got to be something pretty special about the ones she chooses to get behind – like Peace One Day, a movement that started out a decade ago as a movie about one man's quest to make violence halt across the world for one day each year.
"She liked that sense of, 'here's film really making history rather than just recording it'," Jeremy Gilley, the man behind the movie, told OK!.
Article continues below advertisement
"She thought it was really interesting and she loved it," said Jeremy, who has convinced the UN to establish September 21 as an annual Peace Day.
"She's just out there, saying, 'Yeah, Peace Day is a good thing and we've got to observe it," he added after hosting a Webcast from the Scholastic Auditorium in New York to thousands of school children, in which he introduced Peace One Day's free, online educational curriculum about conflict resolution.
Angelina isn't the only star who supports Peace One Day: others involved in the project include Jude Law, who traveled with Jeremy to Afghanistan, Lenny Kravitz, and Six Feet Under's Ben Foster.
At the event, Ben explained why he had got involved with Peace One Day: "I'm inspired by the fact that there is a program coming from Scholastic that encourages kids to integrate and communicate."
The educational curriculum, developed by Peace One Day, is being launched in association with Scholastic and underwritten by long-term supporters Ben & Jerry's.
The materials accompany Gilley's award-winning documentary film The Day After Peace and will be delivered to 4,000 schools in the Northeast beginning on April 27 and to all schools in the US by the end of 2010.
By Jacob Hentoff