NEWS
Anna Paquin Shoots Down Pregnancy Rumors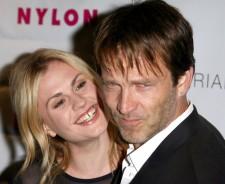 True Blood co-stars Anna Paquin and Stephen Moyer surprised a lot of people earlier this month when they announced they were engaged to be married. But, the 27-year-old star wants the world to know there's will most definitely not be a shotgun wedding.
When asked by Extra about rumors that she and Stephen are expecting a child, Anna — in a sheer, sleek black dress at last night's Nylon magazine party — replied, ""Do I look pregnant?"
Article continues below advertisement
And just to make things completely clear that she is not pregnant, the actress added, "You know my uterus is really flattered that everyone cares, but sorry no occupants."
Check out the entire interview when it airs tonight on Extra.
MORE PICS FROM LAST NIGHT'S PARTY: