NEWS
Ashley Greene on Being a Vamp: I Absolutely Love Alice!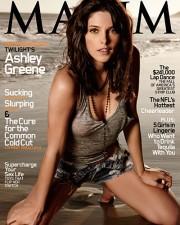 It's not only the legions of devoted Twilight fans that love the character of Alice Cullen — her real life counterpart, Ashley Greene, is totally crazy about the sweet, psychic vamp and did her best to get the role! "Oh, my God, I wanted this part so badly!" Ashley reveals in the December issue of Maxim, which features her on its cover. "I worked my butt off for it because I absolutely love Alice, my character."
Article continues below advertisement
"She's sweet, sexy, and a killer!" adds Ash. "So when they told me I got it, I tried to play it all cool, you know, for about a minute... Suddenly the Twilight blogs started picking it up, and then fans were there taking photos, and I'm on the news, and I was like, 'What?' And then I got really nervous."
CLICK HERE FOR ALL OF OK!'s ASHLEY GREENE NEWS & PICS!
And from there it was off to the races and the ensuing Twilight mania that seems to have overtaken the world! Even Ashley thinks it's a bit nuts.
"It's crazy, right?" she admits to Maxim. "I think my dog is more famous than a lot of stars out there. I bet some people in Hollywood are like, 'I can't get my picture in a mag, but Ashley's pooch Marlo does?' It's mind-boggling."
CLICK HERE FOR ALL OF OK!'s TWILIGHT NEWS & PICS!
So what's next for the brunette bombshell? Bond, James Bond!
"I want to hit up James Bond," dishes Ashley. "That would be awesome."