NEWS
Ashton Kutcher's Infidelities Caught on Camera; Demi Moore Devastated by Photos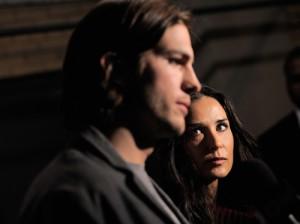 Ashton Kutcher and Demi Moore's marriage has been at the forefront of headlines after a blockbuster story broke last week revealing Ashton's infidelity to the world. Now, Star magazine has released the photographic evidence of the Two and a Half Men star's cheating ways and more details of his relationship with 23-year-old reported mistress Sara Leal .
Star reported last week that the powerhouse couple's marriage was strained and is heading toward a $290 million divorce.
Article continues below advertisement
This week Star released photos of Ashton and alleged mistress Sara, partying in San Diego in the early morning hours of Sept. 24, a date which marks Ashton and Demi's sixth wedding anniversary.
More details on Sara are also revealed in the new issue — a friend tells Star she was "always a party girl on the hunt for a rich man to pay her bills," adding, "she kind of throws herself at people."
Star has obtained photos of Sara's partying ways, showing her kissing girls and drinking.
Radar Online has been collaborating with Star on this blockbuster story, delivering updates and new information on the crumbling of Demi and Ashton's marriage.
Sara has already hired a lawyer and deleted all of her social media accounts for protection.