NEWS
Barack Obama Pardons a Thanksgiving Turkey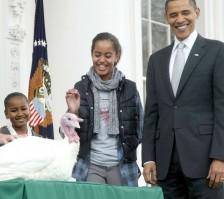 President Obama and his daughters Sasha and Malia were true to tradition this year, sparing the life of one lucky turkey — a bird called Courage.
The first daughters picked Courage themselves out of a batch donated by the National Turkey Board, ensuring the 45Ib bird will the spend the rest of his life in California.
"There are certain days that remind me why I ran for this office," said the President. "Then there are moments like this when I pardon a turkey and send it to Disneyland."
Article continues below advertisement
Courage was also accompanied by another turkey called Carolina who — spared the fate of millions of other birds who'll be roasted, brined and deep-fried today — will head to a Thanksgiving parade and then live at an exhibit about America's first settlers.
If this glimpse of presidential family togetherness has whet your appetite, you won't have long to wait for the next dose of the White House: Oprah Winfrey will interview Barack and Michelle Obama for a prime-time special, Christmas at the White House.
The show, airing Dec. 13 on ABC, will feature a tour of the Executive Mansion reports the New York Daily News. The special will reveal how staffers prepare the White House for the holiday season.