NEWS
Bentley Williams on 'Bachelorette' Ashley Hebert: She Can "Tickle My Pickle" But That's It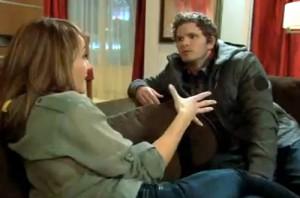 Ashley Hebert is in for some serious heartbreak this season on The Bachelorette. The 27-year-old dental student has already found herself fond of this season's troublemaker/drama king, single dad Bentley Williams, 28. Even with the knowledge that Bentley is on the show for "the wrong reasons," Ashley has begged him to stay (and he continues to bad-mouth her on camera)!
"I came in thinking that Ashley was not attractive at all," Bentley tells the cameras in ABC's preview for tonight's episode. "Having her tickle my pickle, that's like the extent in terms of my interest. She's just not my type."
Article continues below advertisement
"Cute girl, I'd call her a cute girl," Bentley continues, "but not an Emily."
In the clip, Ashley brings Bentley to her hotel-room suite to convince him to stay on the show.
"I don't think I've had a chance yet to thank you for giving me the very last rose," Bentley says smugly.
"I mean, I can do it again if you want," Ashley fires back.
Then Ashley points out his insecurity and explains why she brought him up to her room.
"The only thing I want to say to you is if you feel something for me, please stay, because I feel something for you," Ashley says. "Bentley, listen to me, you need to trust me."
"You need to stop talking and listen to me now," Ashley continues, as she continues to interrupt Bentley, who is desperately trying to speak. "If you feel something for me, please stick around. I wish you could sit inside of me and know. Please, please, please, stick around. Please, please, please."
While Bentley seems to be on board with Ashley's request, he reveals his true feelings to the camera.
"There's no question that Ashley doesn't have the checklist that I'm looking for in a future wife," he tells the cameras. "I could give a s*** about her."
Catch the horrifying preview, via ABC, below!