NEWS
Big Brother 8 Finale: The Donatos Dominate!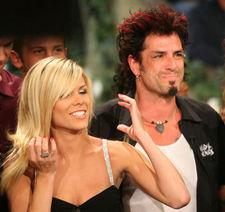 After a summer full of drama, backstabbing and plenty of tears, Big Brother 8 has come to an end after 81 days and awarded its newest winner, Dick Donato, with the big prize of $500,000. His estranged daughter, Daniele, came in second, and scored a prize of $50,000. I asked fellow TV Fanatic Rana Meyer to get the scoop on how the unstoppable father-daughter duo saw their relationship evolve during the chaotic summer in the Big Brother house, and how they plan to spend their Big Brother prize booty.
Article continues below advertisement
First things first: Why haven't you spoken in two years?
Daniele: A lot of personal reasons, a lot of little things that have just built up. But to be quite honest, a lot of it is personal.
Dick: It wasn't me. It was her, not me.
Daniele: Don't point fingers.
Dick: It's her. Laughs
When you first saw your dad in the house, did you ever think you would get to the end together?
Daniele: No. laughs Seeing my dad walk down the stairs, from day one we were the biggest targets in the house. Everybody always viewed us as one person. Which is kind of hard to believe because we are so completely opposite. To me, that is absolutely absurd. Honestly coming in there, I did not see the two of us in the final two. Not a chance.
Where do you see your relationship going now that you're out?
Daniele: It's over. laughs Just kidding. Of course, this is definitely a stepping stone. And we're definitely making the most of it. Putting the negative behind us and looking to a bright future.
Dick: Some kind of normal father/daughter relationship, well as normal as it can be with me as a father who is not very normal. You try spending three months with your father, locked in a house and see how you guys come out of it. Laughs It's a tough situation. I think that we became the closest during the times that we faced the most adversity. We worked as a hell of a team.
Article continues below advertisement
What did you miss most in the outside world?
Daniele: Fast food. Laughs I'm a junk-food addict and I can't wait to get fast food. My favorite is Chick-fil-A.
Dick: Girls!
What will you do with your money?
Daniele: We need a vacation. This was not a vacation.
Dick: I'm going to go to Dublin and see some friends and then I'm going to plan my trip around the world.
Any plans to meet up on the travels?
Dick: I'm sure that we're going to meet in a couple of cities. It's not like we're going to be traveling together. I can see dinner here and there.
Daniele: Only if he paid. laughs