NEWS
Bittersweet: Heidi & Spencer's Divorce to Be Finalized on V-Day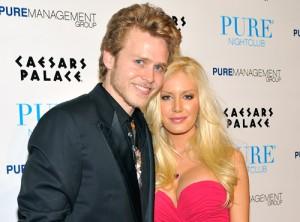 They have almost six full months to fake a very public reunion if they want! Ironically, Heidi Montag and Spencer Pratt's divorce will be finalized on Valentine's Day!
That's right. The reality star couple everyone loves to hate will be officially divorced on Feb. 14, 2011, according to TMZ.
Heidi's lawyer, Jodeane Farrell, told TMZ she just received Spencer's signed acknowledgment, recognizing that he has been served with divorce papers.
Article continues below advertisement
Under the law in Cali, Heidi is required to wait six months after Spencer is served before the divorce can be finalized.
Spencer was officially served on Aug. 13.
OK! NEWS: HEIDI FILES FOR DIVORCE FROM SPENCER
According to TMZ, Heidi claims she formally separated from Spencer on their first wedding anniversary.
Does anyone else think it's too perfect that they are getting divorced on Valentine's Day? How about a possible reunion in the works?