NEWS
Bono's Seeing Red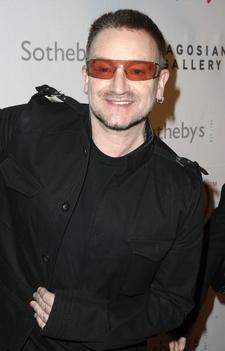 It may have been Valentine's Day yesterday, but Bono was seeing red for a different reason. The U2 frontman was at the Red Auction at Sotheby's to raise money for the fight against AIDS in Africa.
As part of the RED campaign, Bono, with the help of his friends Damien Hirst, Michael Stipe, Christy Turlington, Ed Burns and Helena Christensen, raised $40 million for the cause and OK! was there to see it firsthand.
Article continues below advertisement
Missing from the A-list guest list were other Hollywood do-gooders, Angelina Jolie and Brad Pitt, but Bono had nothing but respect for all the work they do.
"I think Angelina and Brad, using their celebrity, is pretty amazing," Bono tells OK!.
Though he was not aware of Angelina's recent trip to Iraq, the humanitarian does think her trips to Africa are important.
The rocker also paid tribute to the late Heath Ledger, a fellow philanthropist whom he couldn't help but pay great praise. "He was interested in the world and interested in making it better."
MORE ON:
Red Campaign; Bono; AIDS
And though he's known as one of the leading humanitarians today, Bono admits, "I've done some pretty stupid things over my own life."
Now, doing more good than ever, he explains that every person can be a part of the RED campaign.
"Whether small purchases at Hallmark or big ones, I'm really happy."
Visit the Red Campaign to learn more.
By Alisandra Puliti